Creative Sewing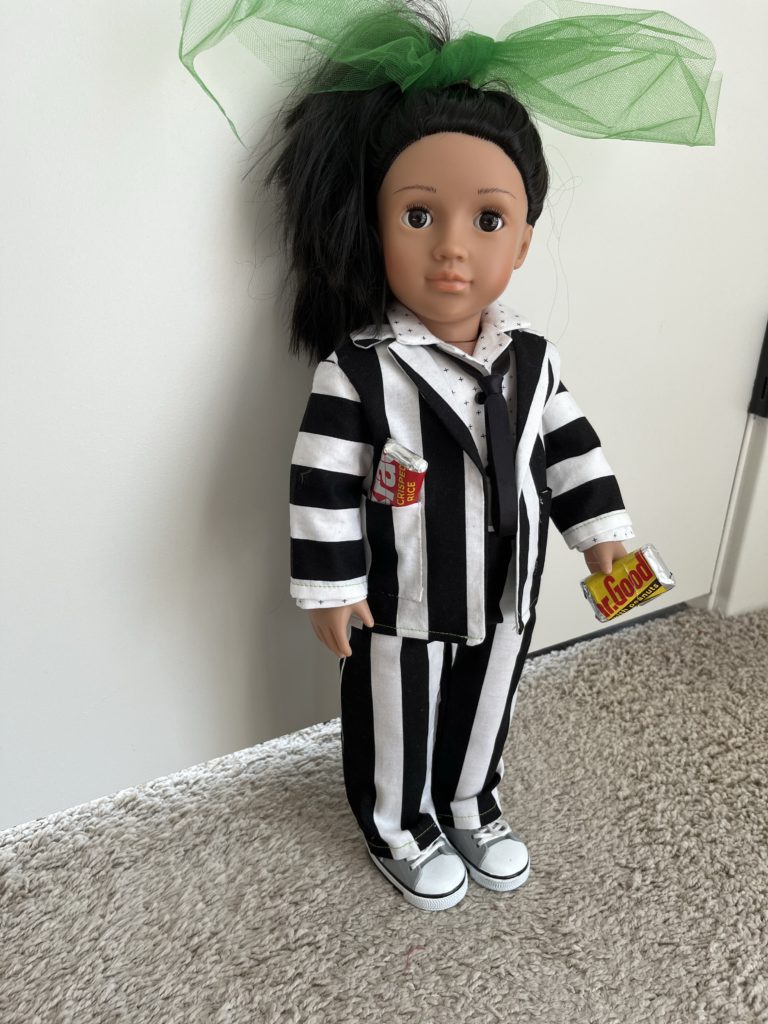 "It's Showtime!": Pia's Beetlejuice Costume
Keeping in line with tradition, Pia chose her Halloween costume this year. I wanted to make another Princess costume since most of the pieces are already cut out, but to my surprise she chose Beetlejuice! Beetlejuice…beetle—-
I used Simplicity 9567 a unisex pattern which includes a suit and tie. I remember now why I prefer making dresses- only one piece to worry about.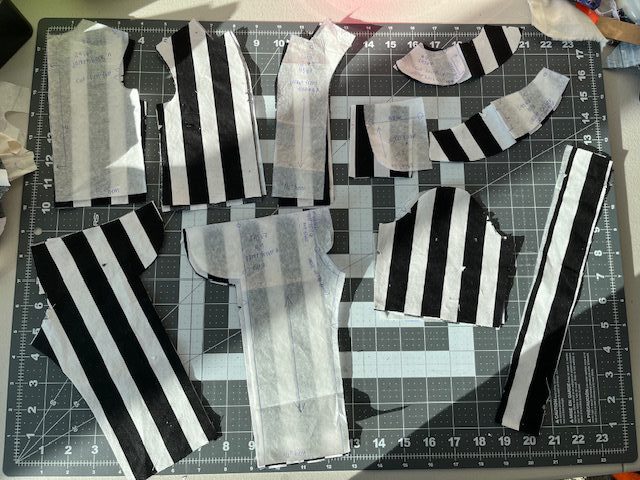 The suit jacket was mostly an easy sew. The collar is basted on and there are neck and front facings. Real pockets too!
I had already serged the arms and completed the darn thing when Pia told me I had sewn the sleeves on wrong. The stripes are supposed to be horizontal not vertical. Ok little lady you could have told me that earlier! Some supervisor. I swear she does it to spite me.
According to her it looked more "Foot Locker" and was supposed to look more like the sandworm from the movie. She even googled a pic and demanded I fix it.
Picking out serger thread is pretty much my least favorite thing to do, but since this gal has the potential to go all Bride of Chucky on me, I obliged.
Let's talk about the pants. I thought they would be your usual two pieces with an elastic channel. I was wrong! There are facings and a separate waistband. I was surprised that they had a fly and topstitching. I was quite amused by this. It definitely adds to the realness of the pant.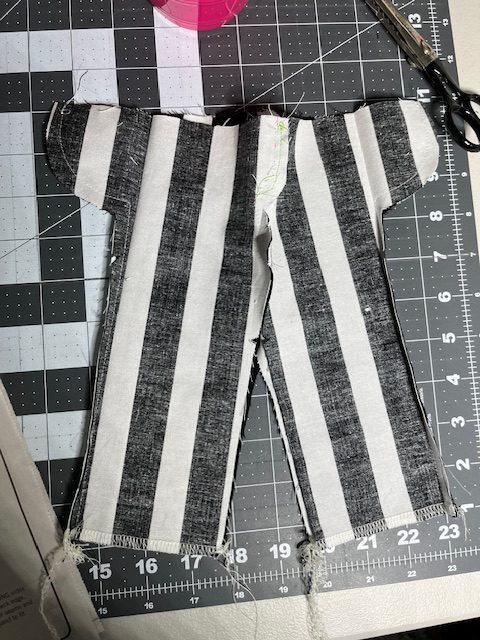 Unfortunately there were some fit problems due to Pia's potato shaped body. Don't tell her I called her potato shaped, that's between you and me, lol
Big 4 patterns are drafted for American Girl and Our Generation brand dolls are a bit thicker in the waist. Even though I've sewn so many Big 4 for this gal, I didn't do the necessary adjustments when I cut the fabric, which meant in the end I had to do some jerry rigging. Lots more work than I had planned but when it comes to Pia I never expect anything less.
I deviated from Beetlejuice's plain white shirt and chose a subtle plus sign pattern. The collared shirt also has a facing and is constructed similarly to the suit jacket.
The pattern uses real buttons and buttonholes but I opted for the usual velcro. More hand sewing for those microbuttons! Pia really likes putting me to work! The shirt turned out boxy having hemmed it 1″ instead of 1/2″.
I think the shirt is cute but felt it needed to be a little slimmer to go underneath the jacket. It's a nice standalone piece though.
Moving right along…
They call it a "skinny tie" on the pattern envelope. Accurate. This thing was narrow as heck! I gave up on turning the tube and opted for ribbon instead. It works and Pia didn't care because she can use it in her hair later.
Last minute decision to tie green tulle in her hair as a final touch. This Beetlejuice costume was a lot more work than I had anticipated but I think Pia looks great! I admit I'm pretty proud of my pattern match on her collar and invisible pockets, lol. She loves the real pockets to stash some candy.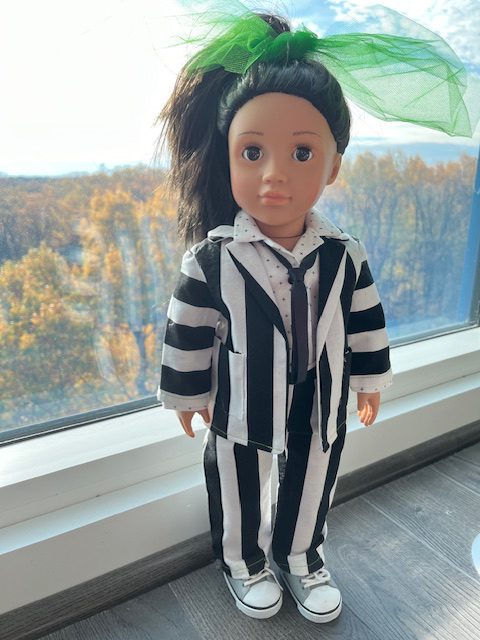 I rated the pattern 5/5 on Pattern Review: https://sewing.patternreview.com/review/pattern/192226
As soon as she was all dressed up I laughed. I can't help but laugh whenever I make something for this little lady. I put in so many work hours for Pia, the DOLL. Certainly a lot more time than myself. But I can't help it. If something brings you joy keep doing that….it's good for the mortal soul. ❤️