Creative Sewing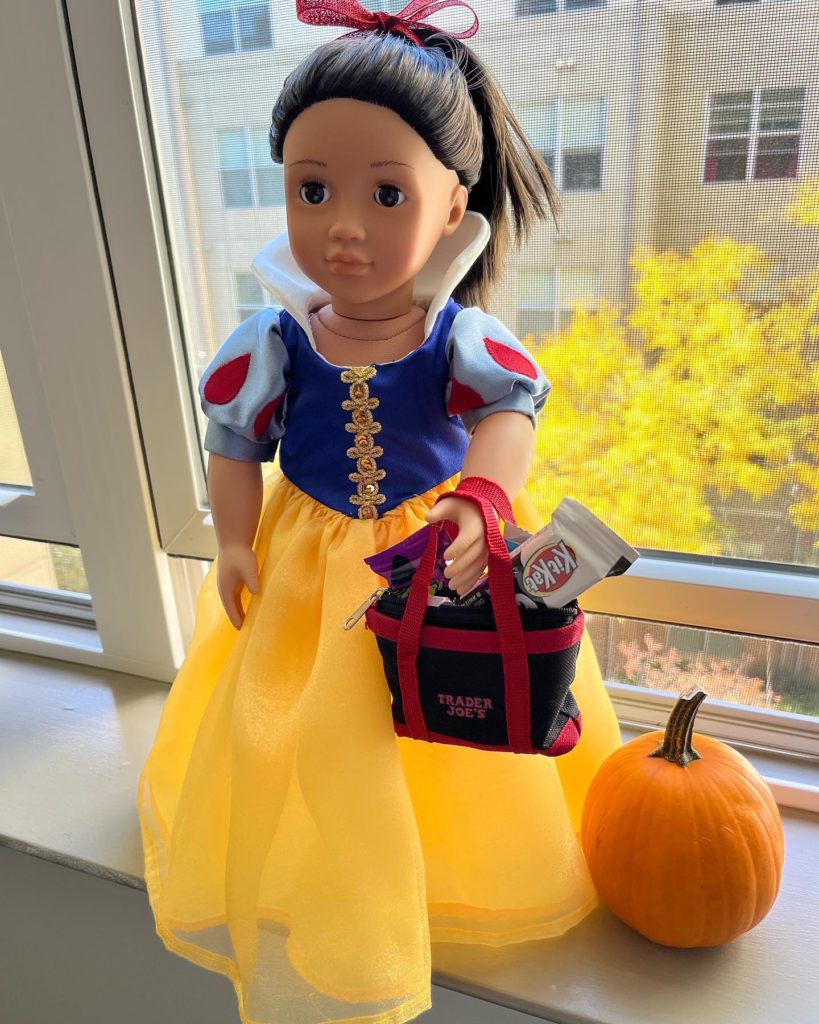 Simplicity 1581: Pia's Snow White Costume
Whether it be the sparkly tiaras, wands or tutus, I consider myself a girly girl and have always loved princess anything. As a child I read a lot of fairy tales and watched Disney movies. Naturally, sewing something magical would be on my radar. After perusing doll patterns on Ebay, I purchased Simplicity 1581. Squealing with excitement, I asked Pia which costume she wanted for Halloween.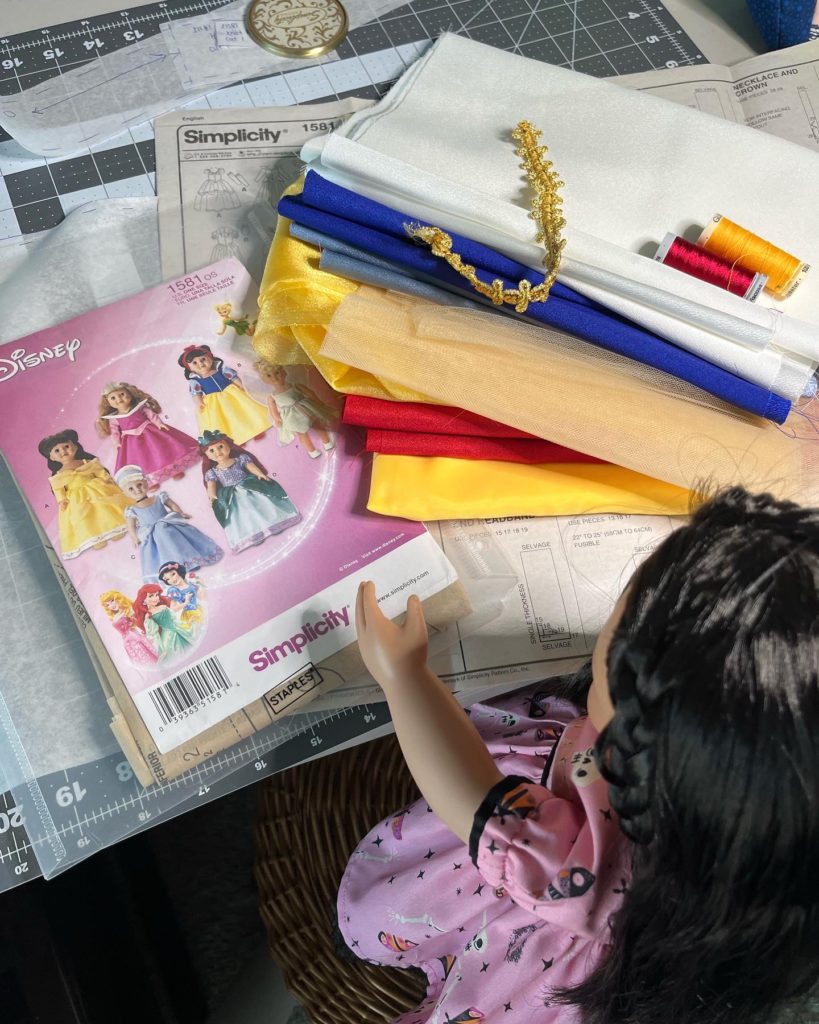 She chose Snow White.
This was the best purchase ever! Why? Because it has Snow White, Cinderella, Ariel, Belle, Sleeping Beauty and Tinkerbell. Why purchase one when you can get them all! Haha!
Upon first opening, I noticed this pattern has 10 pieces. And then of course some of those pieces needed interfacing and lining. It was a lot to keep track of but I find the patterns with many pieces always turn out visually stimulating. This pattern also this gave me the chance to learn applique, something that I've been wanting to do for a long time.
Sewing satin and organza was a nice change from the quilting cotton I had been sewing. I found it to be a little squirmy but nothing major. I chose to deviate from the pattern and add an organza overlay. I wanted the skirt to look extra poofy.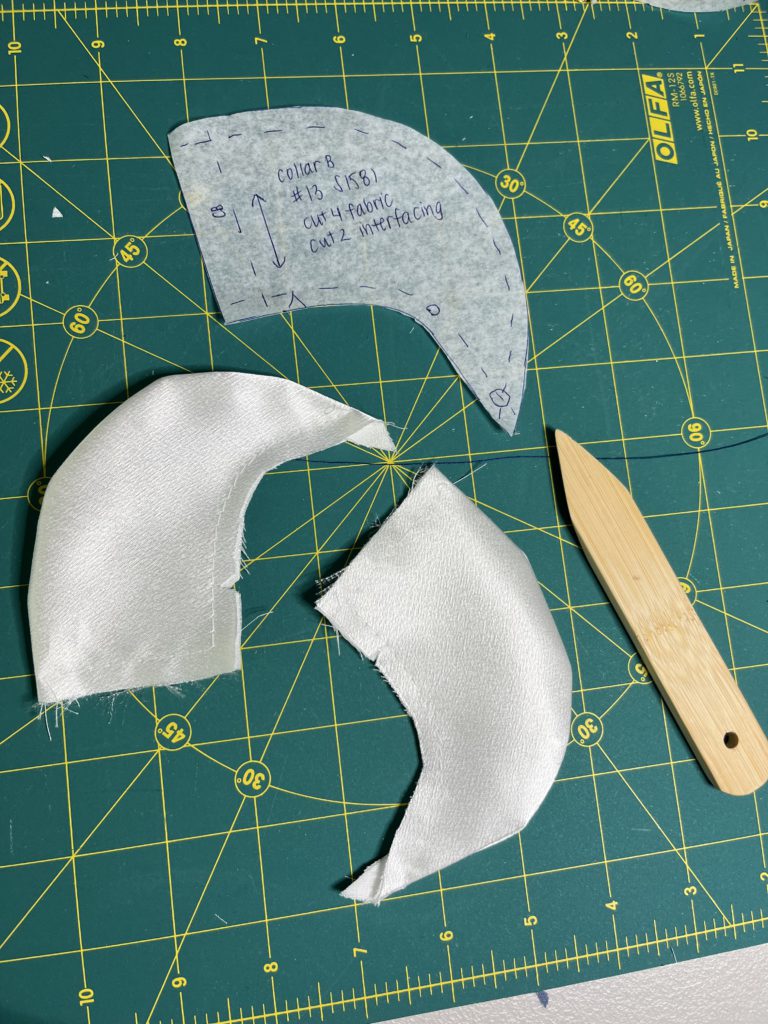 The pattern uses interfacing in the collar too. No biggie.
I used Steam-a-Seam on the teardrop applique on the sleeves. Applique was actually a lot easier than I had expected. I don't know why I put it off for so long!! It's basically trace, cut, iron, then zigzag on top. This really appealed to the scrapbooker in me…nothing like cut and paste! In fact, this was my favorite part of sewing the whole thing. An open toe foot really helped here.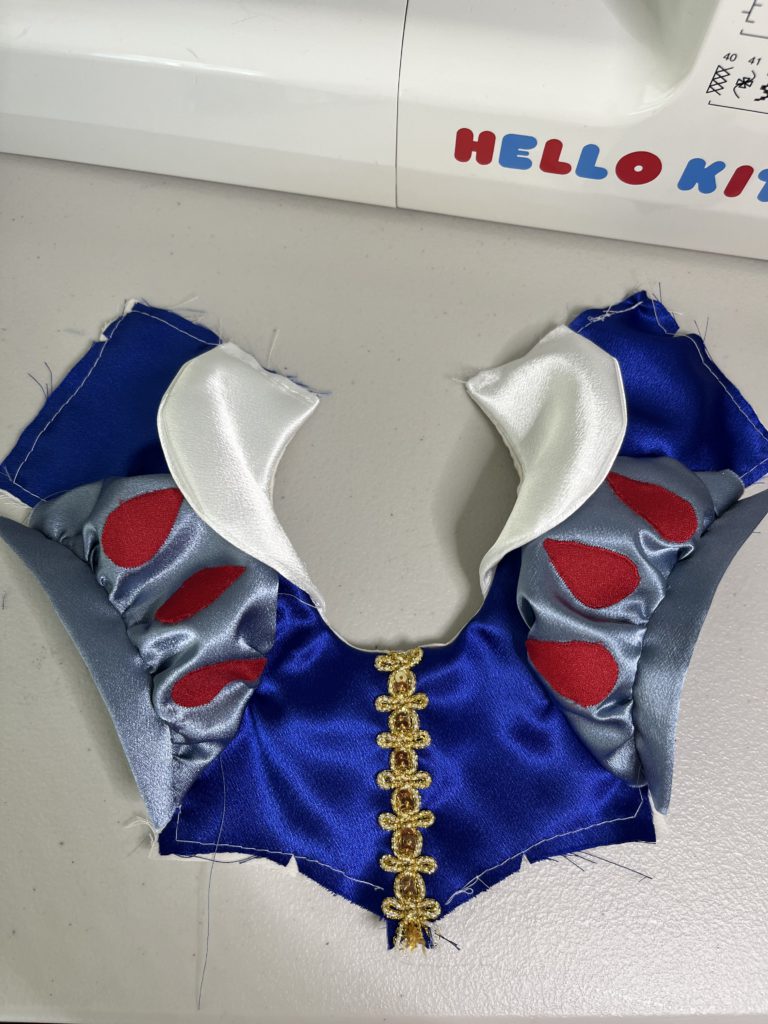 The majority of the work was in the bodice. I handsewed the golden trim and all the sleeves needed handbasting. At 1/4″ seam allowance you know that requires patience and strong eyesight! Haha! But after completing that part I was tickled pink! This is the part of sewing I truly enjoy- when you start to see everything come together. I held my breath while Pia checked my work.
Now for the skirt. The skirt was constructed with simple gathers, just like all the other doll clothes. Pretty straightforward. I just added the extra layer of organza. I really want to get my serger up and running because I read there's an easier way to do this. I did have some fraying happen but it was fine.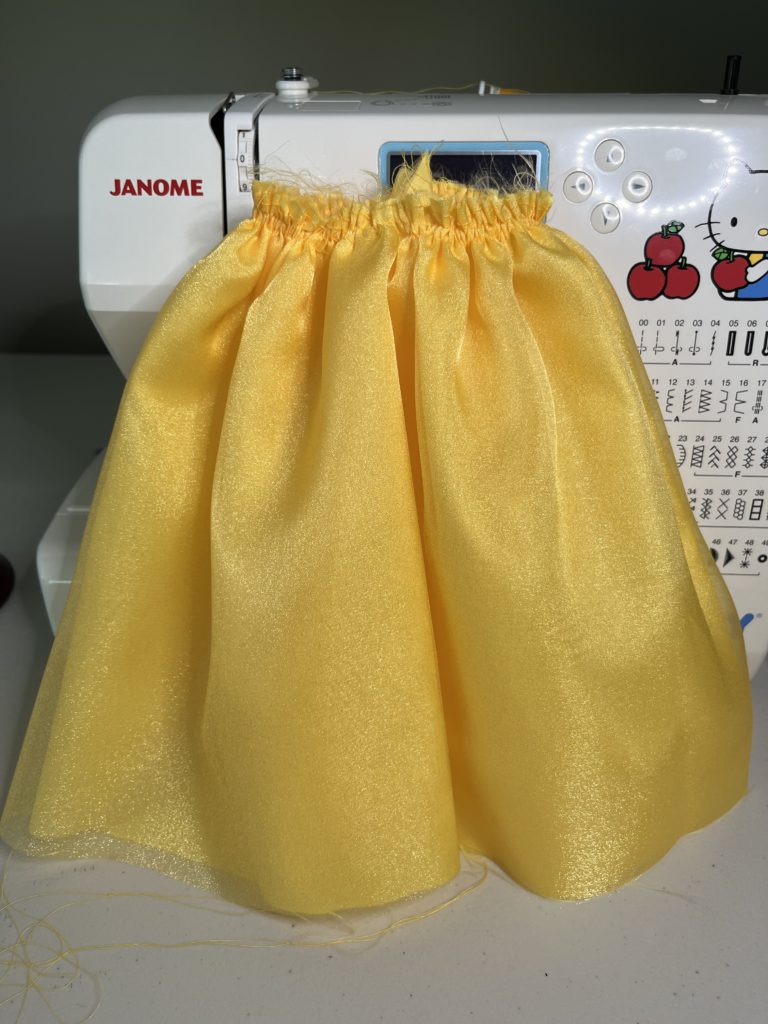 I turned both hems up 1/4″ (or was it 1/8″? it's been so long!), cut off the excess, and did it again. I forgot what that method is called, but it ends up being a very narrow hem.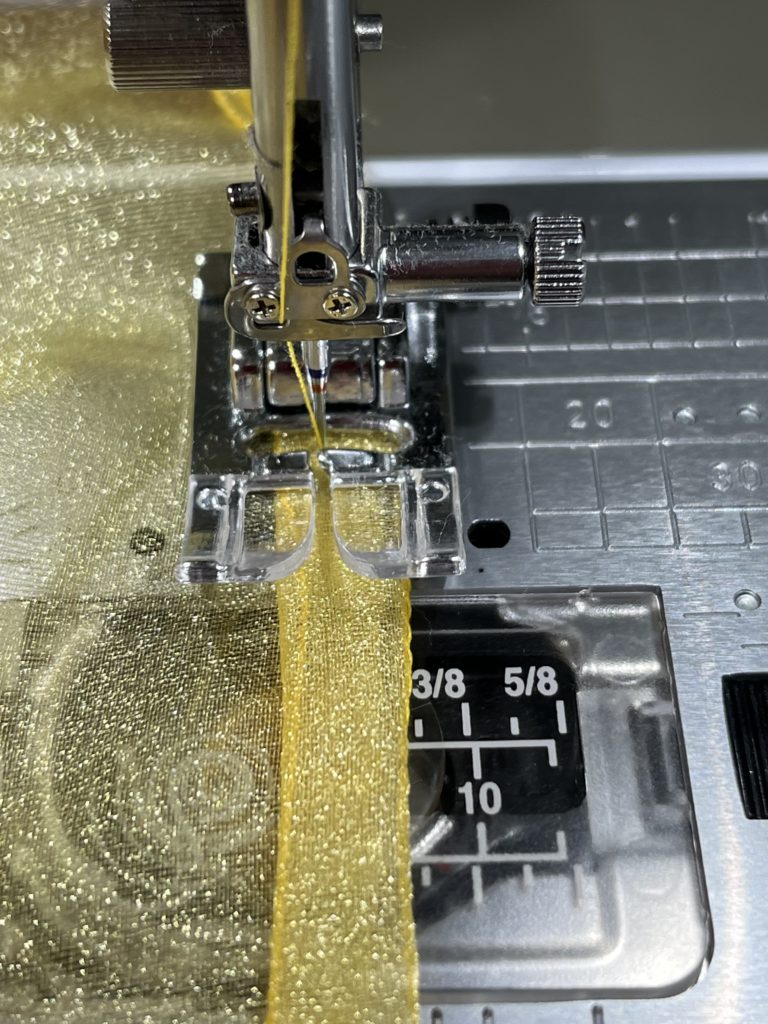 All in all it took me about a week to complete the costume. There was a lot more handsewing than I expected so that required intense focus. Are we surprised though? No. Pia always puts me to work. She looked so excited after the bodice was completed that I didn't have the heart to slow down. I had to continue. Like always, I found myself wondering why I spent so much effort in sewing for a DOLL. This is pretty much the same tune I experience whenever I sew for her. But look at the result- she looks so good!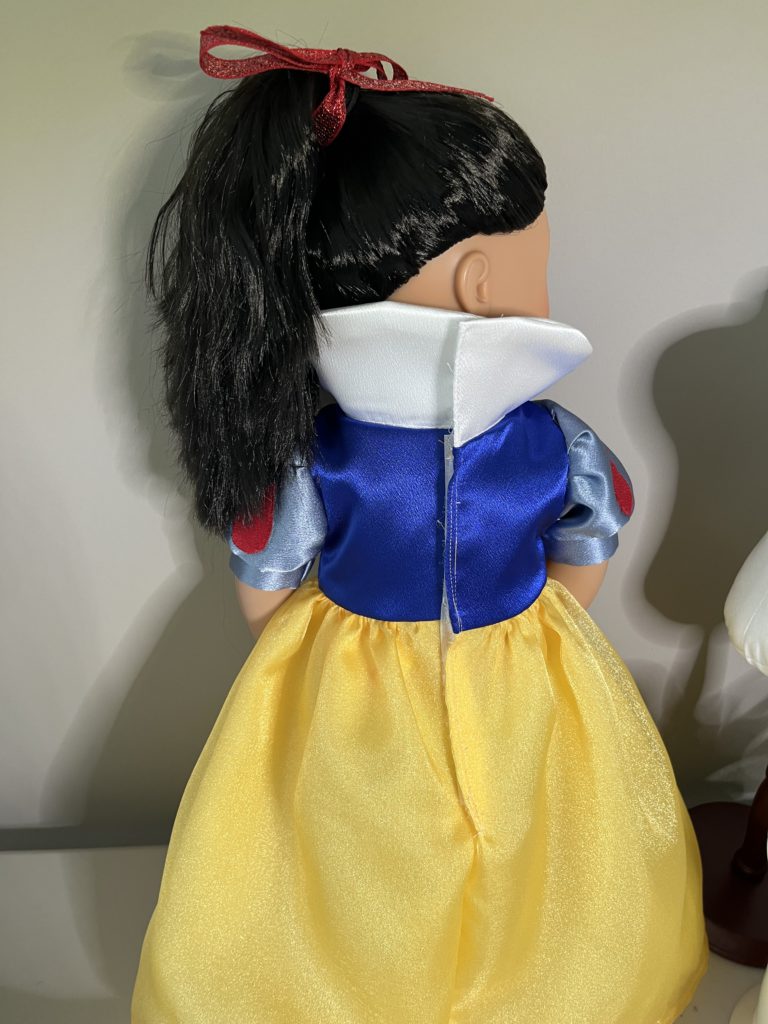 These photos reflect the shiny bodice and the sparkly organza overlay. The collar really does stand up on its own too, thanks to the interfacing. I'm really proud of this Snow White costume! Honestly it's up there in the Top 3 of my favorite things I've ever sewn, LOL. I know, crazy right- a DOLL outfit in the Top 3. It looks like something you'd see on a collector item. It truly is magical!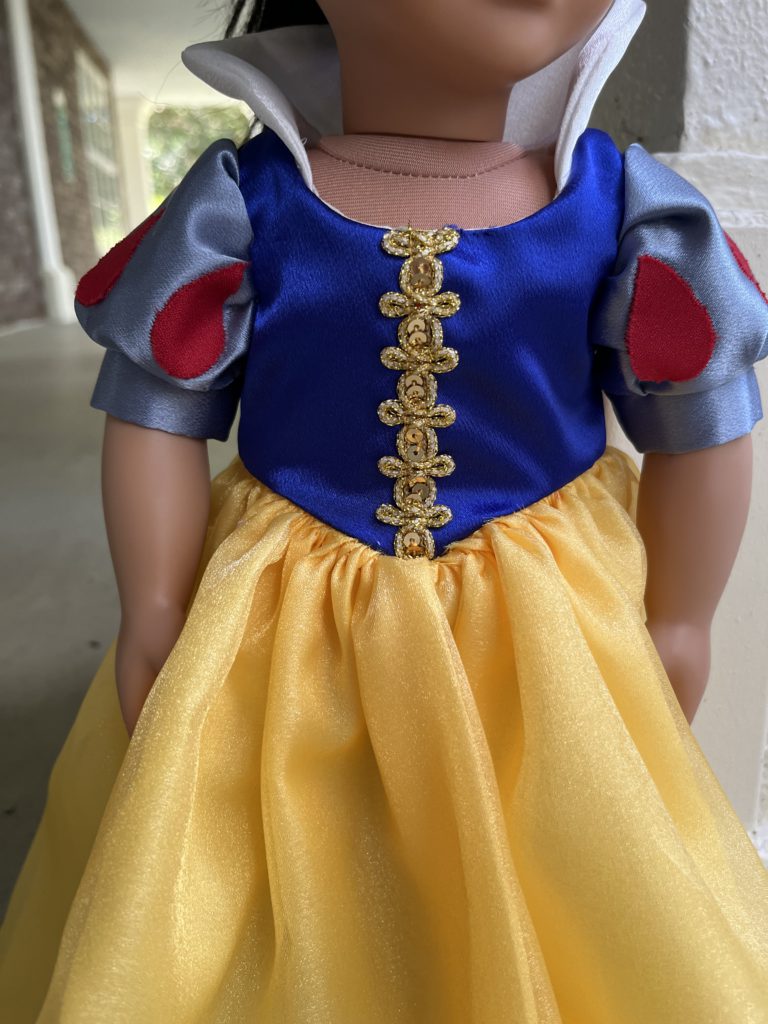 I rated the pattern 5/5 on Pattern Review. https://sewing.patternreview.com/review/pattern/187059
I will definitely sew this pattern again. Pia's been eyeing the Cinderella and Belle costumes. I'm ok with her looking. Little Miss Particular pretty much gets whatever she wants.