Goals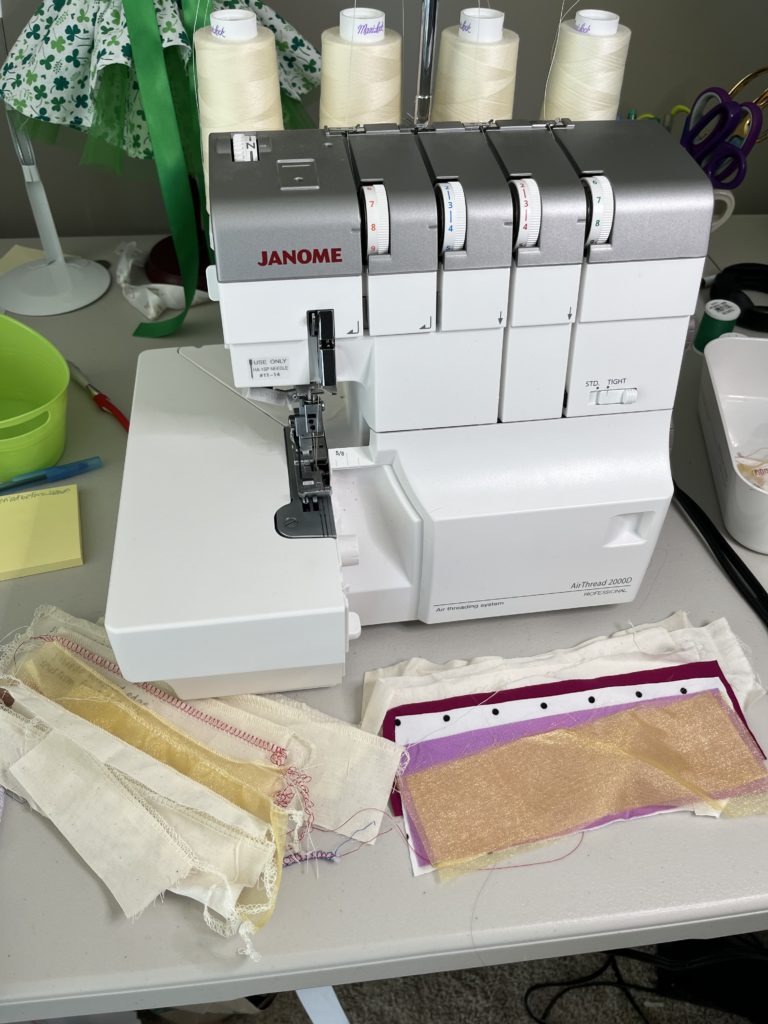 Serger School
I'm starting to get really excited about sewing again. It's almost the same feeling I had when I learning how to sew nearly three years ago. Lately sewing has been on the brain so much it's been keeping me up at night. The itch to sew (human sized) garments is coming back. My Pinterest boards are exploding with ideas and my mind is running wild.
Last week I crossed something off my sewing bucket list that had been lingering. I finally learned how to use my Janome 2000D Airthread serger! A lot of research went into this purchase last February. Threading is a pain for most but with the airthreading technology, it's a breeze to thread the upper and lower loopers. Lift a lever and pop! There it goes. It makes it even easier to change thread colors. I paid a pretty penny for it so I'm looking forward to getting my $ worth out of this thing.
Besides the basic 4 thread overlock to finish woven seams, I never got around to really learning the ins and outs. The only thing I knew is that a serger is great for knits and rolled hems. But it's capable of so much more. Maybe one day I'll finally make those fancy napkins, haha!
Armed with the Janome workbook and handbook, (yes they are two different manuals) I blocked out two full days to sit down with no distractions and really learn the darn thing. Independent learning/troubleshooting at my own pace really ingrains the info into my mind. This was the same method I used when teaching myself how to operate the sewing machine. It's basically locking yourself up in a room and not coming out until you've learned it. Sink or swim method, lol.
Page by page I went through each exercise and created samples. How cool is this gathered feature?!
You can make your own lace too! I can totally see this as a decorative element on Pia's dresses. I've seen on YT where people sew around and around and around and it gets even more frilly. So cool.
This flatlock stitch is pretty neat looking too.
I had samples all over the place so to contain the mess I created my own "Cliff Notes" worksheet and put it all in binder.
It was SO FUN to learn! I even had fun making my reference book! It's just a binder with some charts but it makes me so happy. Obviously I'm not an expert sergerist (is that a word, lol) but it's refreshing to be in "school" again. I'm really glad I have a renewed spirit. I will have to break out those pattern drafting and draping books again too. The possibilities are endless with this hobby.
Now… what to make next?