Inspiration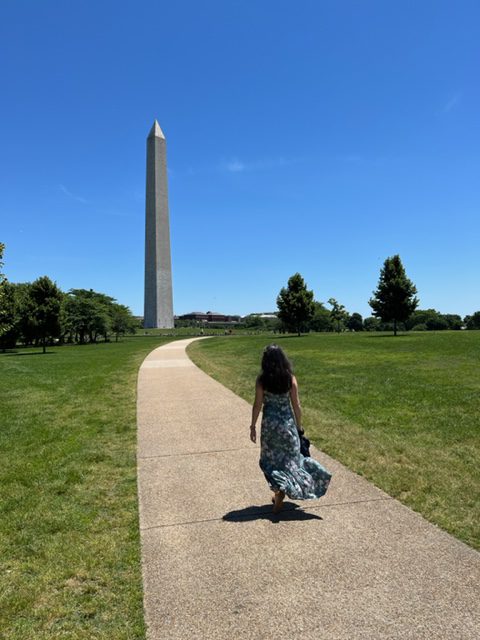 Summer is Here!
Since the weather has been so spectacular, I've been trying to take advantage and spend more time outdoors before it gets uncomfortably hot. It is no secret that I love fashion, clothing and antiques, so I am sharing some things I found inspirational over the past week.
Over the weekend we spent the day in Washington, D.C. I feel very fortunate that our Nation's Capital is so close to us and that all the Smithsonian museums have free admission. You can see a lot of really cool things in all of them. If you've never been, I highly recommend it.
I never really have a plan whenever I go to D.C. Just moseying around is always a good time. Blue skies, fresh air and seeing old things does wonders for my soul.
Currently there is a "First Ladies" exhibit in the National Museum of American History. This exhibit showcases all the inaugural gowns of the First Ladies over the years. You can also see the Presidential China for each administration.
Sharing a few of my favorites.
Seriously, how beautiful is Rosalynn Carter's Inaugural gown?! It looks Dolce & Gabanna-ish. So regal.
I love the simplicity of Lady Bird Johnson's Inaugural Gown. I recognize that bodice from dart manipulation techniques. Oh and those fur trimmed sleeves…so fancy!
This is Mary Todd Lincoln's dress. All that purple velvet….so incredibly luxe!! And that (satin!) piping really just ties it all together. Amazing to think that this dress was likely entirely handmade. They certainly didn't have "fast fashion" back then.
This beautiful number is Caroline Harrison's evening gown. The dress is much more breathtaking in person. A photograph doesn't capture the deep burgundy and incredible beading detail. It reminds me of Rose's beaded cocktail dress in Titanic…when she tries to jump off the ship and Jack saves her. Lol, yes I love that movie.
Oh so fun looking at beautiful clothing!
While in the Smithsonian I stopped in my tracks to see this cradle quilt reproduction by the Annapolis Quilt Guild. It is based off of one from 1836.
Look at that piecing! Such perfect points. Lately I've been making a lot of brightly colored quilts but I plan on making a more subdued antique looking one someday.
Speaking of antiques, I went antiquing this week too. Met with some friends for lunch and saw this lovely 1930's feed sack quilt. On sale for $300. Is that a sale? I don't really know. All I know is that it was in excellent condition for being so old. It was so soft…not sure if you can see, but the border is all pink and green points!
Two types of flowers. The one on the right I recognize as a dresden plate. So amazing to see the handstitching on all of these. Makes me want to try english paper piecing and to sew a dresden quilt. I feel so inspired by this quilt. The colors, the fabrics, the style…I love everything about it.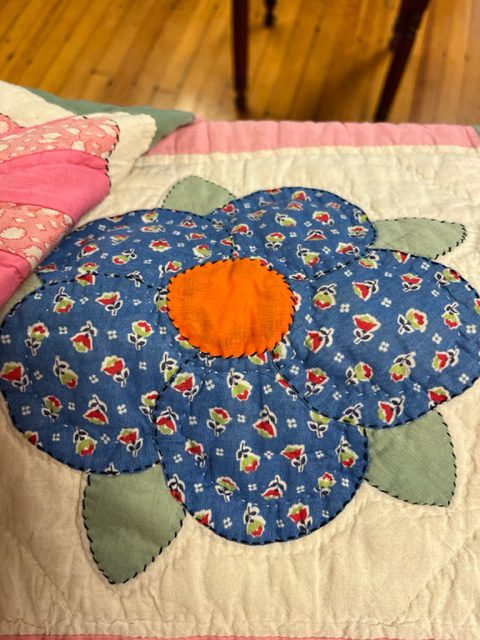 And now to more modern times, haha! Poked around the Anthropologie store. Whenever I go into this store I like to call it "research". I love to look! And the store always smells so good!! Besides clothing they have a lot of really interesting home goods.
Check out this batik pillow.
Applique! I have an applique project in queue but have been putting it off. Can't help but look more closely on how they did theirs. Looks like zigzag stitch with big stitch sashiko type quilting on top.
I won't even bother telling you the price, lol. But hey we sew now so we can make stuff like this, right? 😉