Creative Sewing
Retro Butterick 6265: Pia's Flounder Dress
Every now and then I will stumble upon fabric that instantly "talks" to me. Last week this happened at Joann's with this Disney The Little Mermaid print. As soon as my eyes saw it amongst the rest of the Disney prints, I "saw" the completed dress in my mind with ruffles and contrasting lavender details. I purchased it on impulse and quickly went home to put my vision onto paper.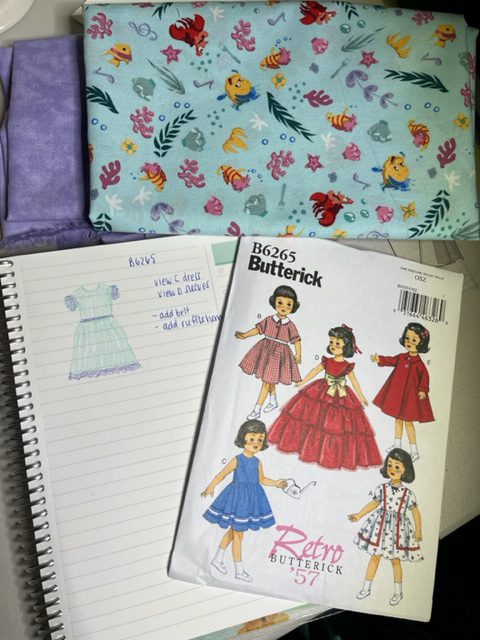 Originally I told myself I'd sew for Pia using scrap fabric only. But here I am purchasing special fabric, specifically for her! I really can't help myself- sewing for this doll has brought me so much amusement and joy the past few months. It really just started out as a "learning tool", but going down this doll clothes rabbit hole has been more fun than I ever thought was possible. I would not consider myself a doll collector though. Pia is the only one I want. I have zero interest in purchasing more dolls or even an authentic American Girl doll.
I think the appeal of the American Girl is that they wear modern clothes. Personally I like my doll to look like a doll! I save the fashionista style for myself, lol.😉 Butterick 6265 is a retro pattern from 1957 with so many options, including a swing coat and jacket. It was a perfect match to my Flounder dress vision.
I was totally in the zone and completely forgot to add the sleeves. Oops! Seam rip rip rip….
To add the gathered ruffle hem I sought the help of Professor Pincushion's video. Attaching a gathered hem is actually a "first" for me as is using a narrow hem foot. Wow, so much easier and clean looking with this special foot!
My gathered ruffle strip was 1.5″ width and 72″ long. The ruffle was then sewn onto the fabric hem line indicated on the pattern. To hide the mess I folded the excess down twice to cover the raw edge.
For the belt I cut a 1″ wide lavender strip, folded it in half and folded in the sides, similar to how bias tape looks. This was sewn on using my trusty stitch in the ditch foot.
Fit was key on this dress so this time around I ignored the velcro placement lines on the center back of the pattern. Using my frixon pen I marked a line where the velcro should be sewn in. You can see my lines in purple. These lines disappear upon the heat of the iron.
I used 1/4″ double sided adhesive tape to anchor the velcro and the belt before sewing them onto the dress. It's much easier using adhesive than pins since everything doll sized is very thin and tiny.
At the time the skirt seemed really poofy so I omitted the petticoat. Next time I will sew it in since after a couple of days gravity took over and flattened it out some.
Once I saw Pia wearing the Flounder dress I admit I was giddy, lol. It makes me smile and is EXACTLY what I envisioned.
I really enjoyed sewing this retro Butterick pattern and rated it 5 stars on Pattern Review.
Butterick 18 6265 pattern review by RosieSews2
Tickled pink by this one! ❤️