Pattern Review
Fabric Cafe Nine Patch Quilt
The Nine Patch pattern comes from Fabric Cafe's book "3 Yard Quilt Favorites" by Donna Robertson. I am loving these books. LOVING. Their concept is to have one focus fabric, one light colored fabric and one dark. That's it! The instructions are so easy to understand and they also give you instructions on how to enlarge the quilt to twin, queen and king size. Additionally they have really helpful YT videos. I couldn't recommend these books enough, especially to beginners. Oh, and their customer service was top notch too- I called with a question and a real person answered right away! The woman was so nice on the phone…she walked me through the math and everything. I know I sound like I'm gushing but great customer service so hard to come by these days.
On to the quilt!
Nine Patch was created using the strip piecing method. Basically you're sewing the strips lengthwise then cutting them off in pieces. It reminds me of cutting celery or something, lol. Then you rotate the pieces until the pattern forms.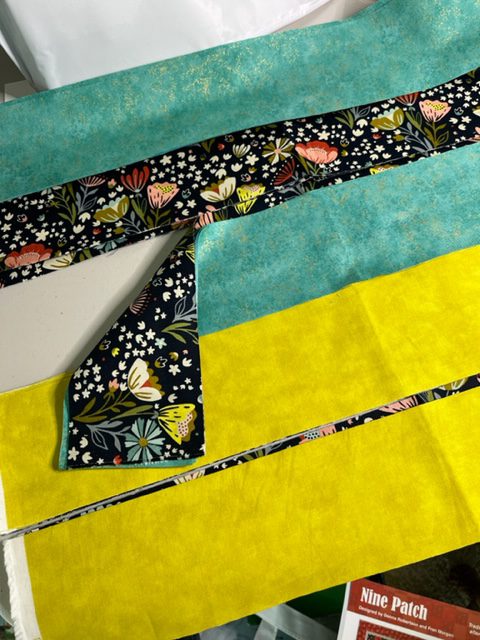 The whole thing goes together even faster with chain piecing. Hats off to whomever invented this quilting method- I find it strangely relaxing.
My By Annie's stiletto was really useful in pressing open the seams before I took it to the iron. One end is the pointy part and the other end is flat. I originally purchased this specifically for By Annie patterns but am finding that it's a really useful sewing notion. I used it to help sew on the binding too.
For all these 3 yard quilts they use "Economy binding". Instead of using the usual 2.5″ strips, this uses only 1.25″. I have to say this was my least favorite part of sewing Nine Patch. It's EXTREMELY narrow so when creating it you have to be really careful not to burn your fingers. I think the outcome looks very clean, however, I am undecided if I like making it. Donna Robertson says you would need an additional half yard if you decide to do the 2.5″ wide, but of course this will add to your overall cost, hence "economy".
At first I wasn't sure about that chartreuse color. It was just so "in your face" when I laid out the blocks.
But after the flower design was quilted on top I can hardly see it anymore! Somehow the quilting makes the yellow more subdued. I have to give credit to the Viking (DH) as he helped choose the quilting design and backing fabric. I am really happy with the outcome.
I rated the pattern 5 stars on Pattern Review.
No Pattern Used Fabric Cafe Nine Patch 3 Yard Quilt pattern review by RosieSews2
The Nine Patch quilt was a success! I'm looking forward to sewing more patterns from this "Quilt Favorites" book. I'm pretty excited about these patterns- they are quick and easy and highly satisfying to sew.