Contest
My 1st Upcycle/ Draped Design: Peacock Dress
When the contest theme was announced my mind ran wild with pattern possibilities. I even started tracing some of them out. This all changed once I went to Goodwill. My intention was to pick up blue jeans for a specific idea but I was immediately drawn to the brightly colored teal, cobalt and coral denim. I couldn't pass those up. I didn't know what it was going to be yet but I definitely wanted to inject some COLOR into my outfit.
I'm not a real big denim person other than your standard blue, black and white. And I definitely don't wear or own any denim tops or dresses. Since I was so attracted to those colors, I knew that whatever I was going to make would be a reflection of my personal style.

On the way home I looked into the bag. The way they were thrown in there the colors started to take shape in my mind. The colors reminded me of a peacock and thus the idea for my Peacock dress was born!!

I started out with a sketch of what I "saw". Now..how to make this?! The idea of using an already made pattern didn't even cross my mind. I was going to MAKE my own pattern.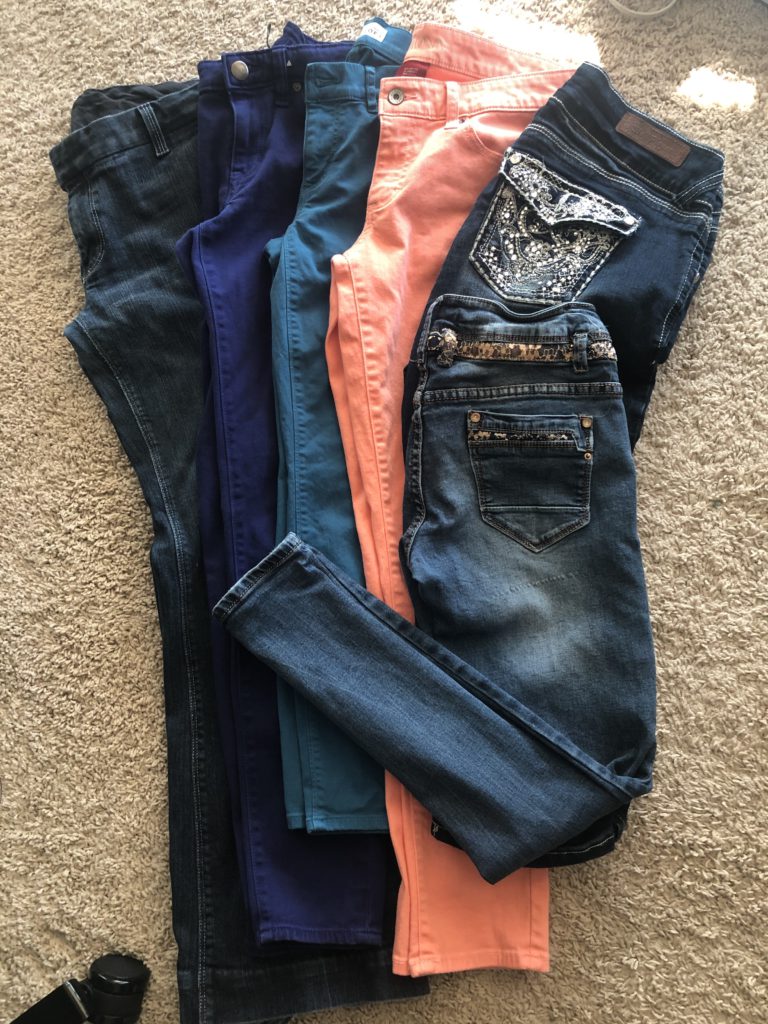 First I took my mannequin (she still needs a name!) and started taping in the style lines. Then I started draping in the pieces of muslin on the bias. Bias because it needs to be stretchy on those areas. Once that was all done I went in and outlined all the pieces and numbered them so I remember where they go.
I removed the pieces from the mannequin and went in with my rulers to blend the lines. Once that was complete I laid the pieces on my trusty 1 inch grid wrapping paper and added the 5/8″ seam allowance all around. The wrapping paper pieces became my pattern. I drew in notches so I remembered how the pieces are supposed to be sewn together.

After making all 7 of my pieces, it was the moment of truth sewing the muslin. To my surprise, it actually fit! Oh my gosh. I was so excited the draping I did actually worked, lol. And it looked legit too!!

Sidenote: I had seen draping on Project Runway and was intrigued so I have been reading some draping books and watched videos on the process.

However, drafting the skirt gave me some trouble. It's basically a tube with darts but I was having a really hard time trying to figure out the excess fabric situation. It was a bit annoying so I gave myself permission to use a pattern. I used the shape of McCalls 8004 and eyeballed where to put the darts. I didn't use or read the instructions…I was really just winging it.
I used a teal peg leg and the wide leg jeans for the skirt part. My intention was to make a cocktail dress with a shorter hem but during the fitting I was really liking the length. It's a different vibe…kinda funky, kinda casual but still a bit body con. I don't own a lot of longer dresses so I decided to keep the hem long and open it at the knees to give it some movement and to add some interest. It also is easier to walk in with those slits.
Funny thing about the natural distressing on the hem. When I was deconstructing the jeans I discovered that the length was altered. Amongst the alterations there was also a lone staple in it…removing that revealed a hole! I like to think the original owner accidently pierced it with her stilettos and did a quick fix on a Sat night, lol.

For the straps I used the waistband from the Sevens to match the bottom skirt. I sewed this in using the same color thread to camouflage into the design. I think it looks pretty good! I topstitched the bodice in coral thread as an accent. But really this color was chosen because I was running out of navy thread, haha!

The majority of the dress was created using a pair of Seven for All Mankind wide leg jeans. I know this brand from my retail days. It's premium denim and costs over $100+. When deconstructing I realized why it's so pricy- it was hard to take apart! But I know this is good quality denim and I knew I'd want to use the buttons in the design.
I went back and forth on what I was going to make for the required accessory. The embellished pockets on one of the jeans was gorgeous but I felt they were too distracting from the dress. I decided to make a belt. I used the original gold button and cobalt buttonhole from the waistbands and slipped them into a rectangular cobalt blue tube. I think it works out well- it's subtle and functional.
Simple back because the front has a lot going on. The blue zipper is just enough to give it a colorful punch. The seams that border the zipper are the original side seams of the jean legs. This was intentionally used to help lengthen my petite figure and be more figure flattering.

And finally after all those construction details…. the final product!

This is the first dress I've ever designed and created from start to finish so I consider this a huge milestone! Between the buttons last week and the draping this week, I am feeling more confident in my sewing. It's a great feeling!