Contest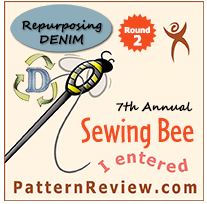 Sewing Bee Round 2: Repurposed Denim
Woo hoo! I passed Round 1! Yay! So excited to make my goal and that I didn't get stung by the Sewing Bee. But now my new goal is to PASS Round 2.
There was a lot of speculation on what the theme would be for Round 2. We all guessed darts, tucks, gathers, collars or sleeves. Some kind of SKILL. These guesses were based on previous years Round 2 challenges. But guess what, we were thrown a curve ball when they said the theme is upcycled denim!
Here are the rules:
1. Use an already constructed denim garment and make a different garment for a person PLUS an accessory also made from denim.
— a. Denim is defined as a cotton fabric made using a twill weave, which creates a subtle, diagonal ribbing pattern. You may use any color denim. Your denim may be stretch or non-stretch.
— b. You may use as many denim garments as you want to construct the new garment and accessory.
— c. Any (or no) pattern may be used for this round.
2. The source of your denim must be a garment. You may not use stash fabric, bed sheets, curtains, table cloths etc.
3. Your embellishments may be of any fabric or material.
More details here: 2021 Sewing Bee Round 2 – The Challenge 3/14/21 – PatternReview.com Blog
Nobody was really that enthused. Honestly I had no reaction, lol. I guess because this is my first time participating I don't really have any expectations. I just know that you have to be on your toes no matter what- just like the contestants on Project Runway!
However I was kinda bummed we aren't allowed to use stash fabric. But I find when it's a total random selection of items I tend to be more creative. As expected, my initial plan changed about 10 times by the end of Day 1 due to the denim selection at Goodwill. No worries though- I'm excited to see this through! It's the first time I've ever upcycled anything. I always feel weird cutting up perfectly intact garments.
Contest ends Sat so I'll be back with the finished products soon. 🙂