Pattern Review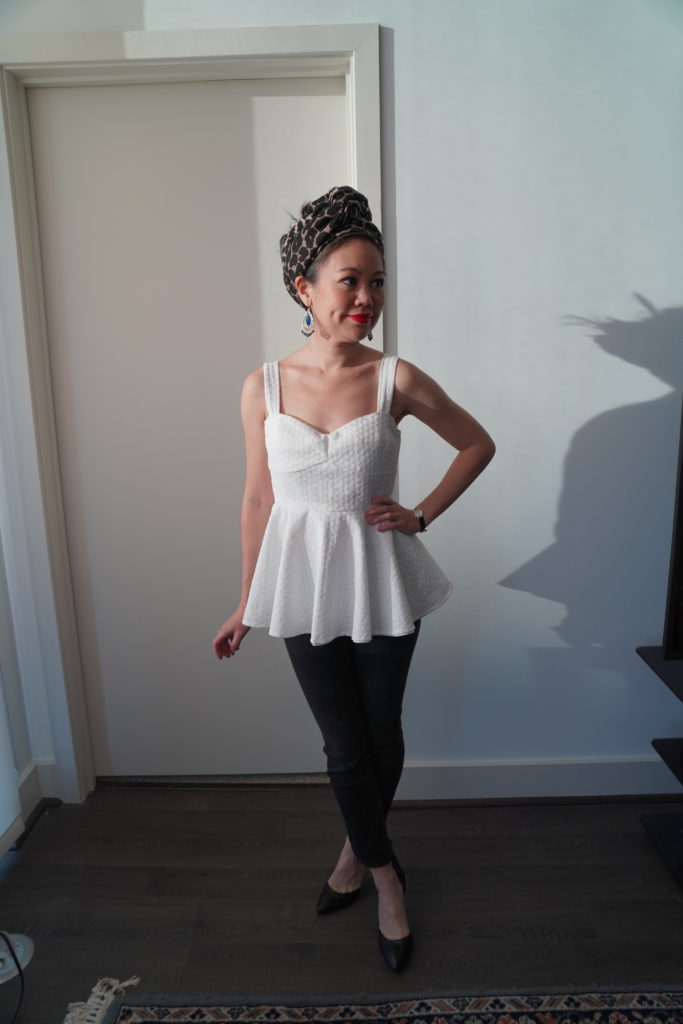 McCalls 7752 Peplum Top Wrap Up/Review
Woo hoo! The peplum top is finally done!! This top took longer than most projects because of 1. Life and 2. it had more pieces. There are 8 pieces in the bra top alone! The entire ordeal took about 9 days, including creating the muslin. (See blog post: McCalls 7752 Mock-Up) It didn't help that I couldn't figure out the difference between a peplum and a flounce and had some design dilemmas, lol. That's ok. For some reason I feel like I need to be churning out something new every 3-4 days. I think it's because I was so used to that pace when I was doing the Pattern Review contests. Most sewists are happy if they finish something in a week! So I'm right on target.

McCalls 7752 requires a lot of patience because you're constructing the same top twice- the lining and the outside. I don't think this is one you could whip up in an afternoon. Maybe you could, but I sure as heck didn't, lol. I ended up using a bleached muslin as a lining. It's a little thicker but I like it for its opacity. The pattern is only partially lined to the bodice but I went ahead and fully lined it to the peplum. I stitched in the ditch around the midriff and back bottom, leaving the sides open. I think it lays better with those open layers.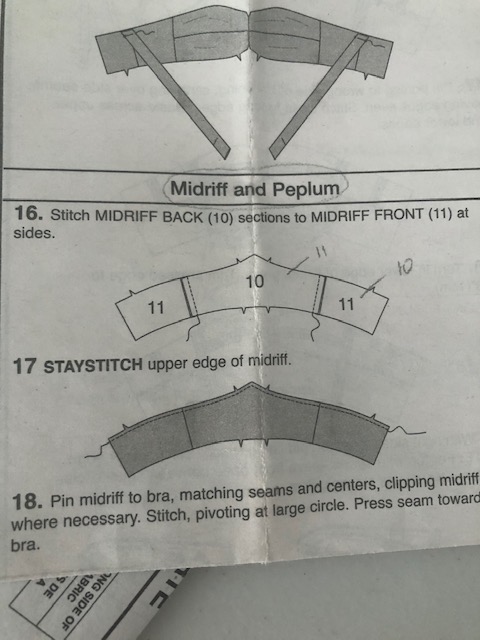 When I was sewing the eyelet I wasn't sure how the top was going to turn out. Like it just looked "ok". But once I sewed in the lining it went to a whole different level of quality. The muslin lining added a bit of stiffness, giving it a more structured look. The boning on the sides also add to the structure of the top. I only see boning on RTW tops and dresses that are more $ in price. Those elements combined with the interfacing makes this thing pretty substantial. It even holds it's shape while on the hanger! The whole thing looks expensive to me. It's giving off Lilly Pulitzer or Draper James vibes.

McCalls 7752 sewing level assignment is "Average". I found this to be 100% accurate due to all the techniques used. Sometimes sewing level assignments can be intimidating. But I found this pattern to be ok, just a lot of steps. I will not be defeated by the pattern! Mind you this is not a beginner pattern. The hardest part of sewing this top was keeping a steady hand for edgestitching the boning channel. If you sew too far in you run the risk of not being able to slide the plastic boning back in. I sewed it VERY SLOWLY and sweated bullets the whole time, lol. Luckily my edgestitching was fine and I didn't have to rip anything out. That woulda been a major pain having to differentiate between my sewing and the side stitching of the channel. Sewing in the invisible zipper was good practice. I don't think I could ever sew anything other than an invisible zipper. It looks so clean and professional! The pattern calls for 5/8″ hem but I only hemmed 0.25″ because I like my tops to cover my crotch, lol.

As far as fitting goes, it could probably be taken in an additional 1/8″ smidgeon but I think the peplum would have looked too pronounced. Besides, it gives me more ventilation during the summertime. 😉
McCalls 7752 Final verdict: 5 stars! Official Review here: McCall's Misses' Tops 7752 pattern review by RosieSews2
Here are a few ways you can style this top with RTW clothing you probably already own in your closet!
Summer relaxed preppy look: White bow headband + pearls + jeans + flat sandals
Animal Style: Leopard scarf turban (Why am I so obsessed with the turban, lol) + oversized earrings + black jeans + black heels
Diva: Black belt, black shiny leggings + red heels
Of course I could go on and on and on about different ways you could style this top. Perhaps in the future I'll dedicate a blog post to Styling in general. Since this is sewn with 100% cotton, it's cool and comfortable no matter how you wear it. I don't know which is my favorite look!
Which is your favorite??