Pattern Release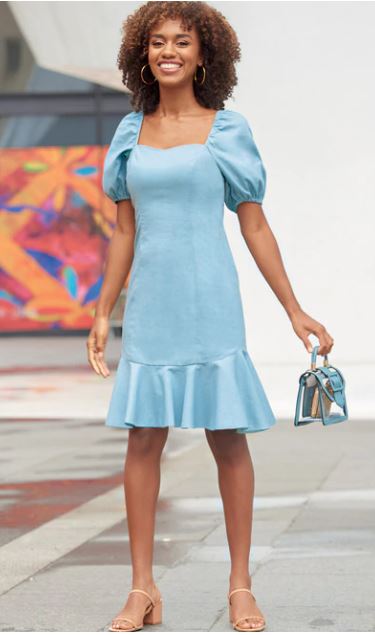 McCalls Early Spring 2021 Pattern Release
We are experiencing a winter wonderland here in Virginia. It falls so slowly and gives me a peaceful feeling. Even though we are in the dead of winter- what some may call "Blanduary", I am dreaming of warm weather and have already started sewing Spring/Summer clothing.

The peeps over at McCalls must have heard our cry for something new and fresh because just as I am trying to decide what my next project will be, they released their new Early Spring patterns. There are 20 new patterns! And I like 8 of them! Mind you, the last thing I need is a new pattern but I can't help get wrapped into it all and will wait until Joann's next $2 sale.😉

Let's talk about my Top 3 Favorites, The Intriguers and The Duds.

Top 3 Favorites:
M8179 #AlisonMcCalls Dress
I love everything about this pattern! A sweetheart neckline is always figure flattering but what is most striking is that curved hem. That style line looks like it would accentuate curves. I also really like the puffed sleeves and the entire look on the model. It's feminine, modest and looks comfortable for a "bodycon" dress.
I'm also really into View A with it's one shoulder and flounce. I am partial to anything that is 80s looking and Dynasty-like, lol. Listed fabric options are brocade (!), cotton blends, satin and poplin. Extra points for this pattern because it has lining and boning- something I now know how to do! This one is definitely going into my cart. 😉
M8177 #AshleyMcCalls Dresses & Belt
Buttons all down the front. This is a trend that's been hanging around for the past 2 years or so but this time its "updated" with puffed and blousy sleeves. Updated in quotes because it gives off 90's vibes. Again the V neckline looks flattering and I like that the updated sleeves give a more romantic feel to dress. View C on the model is my favorite. This is not a surprise because I love belted looks. The waist is the most narrow part of your body so whenever you belt it makes you look more hourglass and finishes the outfit.
M8140 #ParkerMcCalls Dresses & Belt
This blazer dress is the most boss/power looking out of them all. I like all of the views equally! The plain long sleeve one looks the most serious but I like the short sleeved puff sleeve version for some visual interest. It's looks diva so course I love it. Parker is also lined (bonus!) and lists crepes, wool blends, brocade and jacquard as fabric options. This is a pretty wide range so this pattern could take you into all seasons and occasions. I'm a fan.
The Intriguers
McCalls 8146 #MyrtleMcCalls Top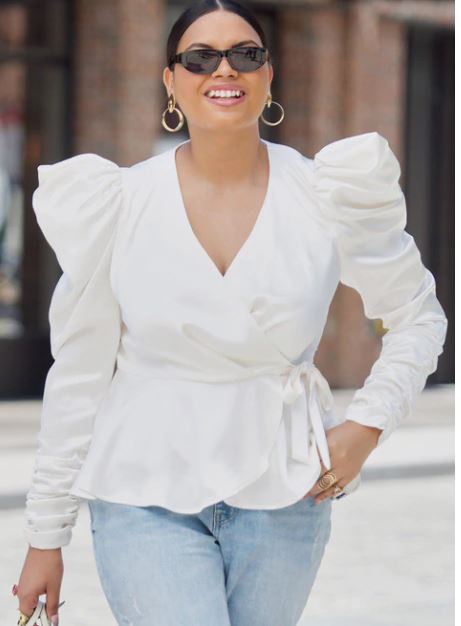 Wow, that's a statement sleeve ever I ever saw one! This one is intriguing because how big is that sleeve exactly??! You can never really tell by the line drawings or by the model. It looks good on her because it is the right proportion. But I'm wondering how this would look in real life on a petite person like myself. I do like the wrap part to cinch in the waist and of course the V neckline is flattering. Listed fabric options are charmeuse, crepes, challis, lawn. I'm very curious because it seems like challis and lawn would result in a softer looking sleeve. It looks like the model is wearing some kind of cotton broadcloth to help keep its stiffness/structure, but maybe it's crepe?! I have no idea…maybe you do?
McCalls 8183 #ValerieMcCalls Jumpsuits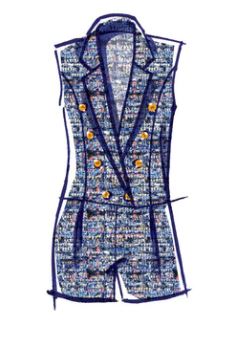 I'm not really into jumpsuits because I think they look like they're hard to go to the bathroom in, lol. Even though it's been the trend, I haven't worn one since the mid-90s. Being petite I also find them hard to fit- they are never right in the body length. What intrigues me about Valerie is View A. It looks serious with the lapel and buttons but playful since its shorts. I think you could really elevate this look with some fancy buttons. Listed fabric options are crepe, suiting fabrics, gabardine with satin and charmeuse as contrast. With a satin lapel this could look really snazzy! If Parker ends up in my cart it would def be me venturing out of my usual style. Because of that I feel intrigued to sew it.
McCalls 8174 #BrandiMcCalls Dresses
This is another one with those blousy sleeves. View C pictured on the model is my favorite. That ruching at the waist looks like it could be either 1. flattering or 2. draw attention to a tummy. I do like the slit in the front and that that the back doesn't hug too closely to the bum. Listed fabric options are jersey, cotton knit and interlock with a lining. I don't normally like jersey dresses because I think they're a bit clingy but since this one has lining it may be an option.
The Duds
I won't spend too much time on these because I don't want to totally knock down someone's design creations. Fashion is subjective and some things are simply not my taste. I am not a fashion critic whatsoever and don't find satisfaction in poking fun – I'm looking at you Fashion Police/Joan Rivers!
These two tops have way too many design details for my taste.
I find this romper to be long john-ish and I don't like the drawstring detail at the top of View C. It's probably more suited to someone with a more sporty style.
View the entire McCalls Early Spring pattern collection here.
What do you think of the new collection? Which are your favorites?