Pattern Review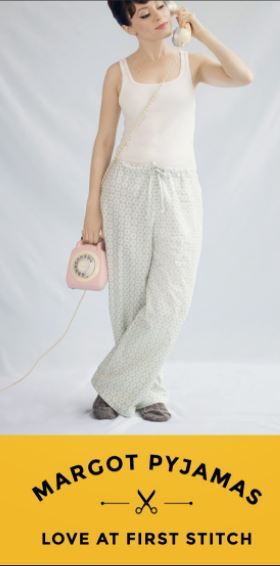 Tilly and the Buttons Margot Pajamas
Upon receiving Tilly's Dressmaking Love at First Stitch book I was completely engulfed with the idea of making clothing. Bored from the apron I decided to work on a new project: Pajama pants. (Sadly the apron still remains in my closet in muslin state.) Tilly's book has the patterns printed on both sides so I got some practice tracing the pattern. I sewed a size 2 based on my measurements.

This book had great reviews online and I must say that it's been very helpful to me just being able to read step by step garment construction.

I chose a blue and white polka dot quilting cotton from Joanns, pre-washed it and got to work. Cut out the pieces using my new "Learn to Sew" kit. It was all very straightforward and easy. Except for the leg part.

Basically when you make pants you sew one leg and then the other leg. Then the leg goes into the other leg. Then you sew the crotch. It's all very weird to think about when you're doing it and the whole time I was like wtf, lol. But I eventually I got to that "a-ha!" moment when I turned it inside out and and it looked like pants!!! They were real pants. Not fake, but real…and wearable! Kinda.

Despite pre-washing the blue dye had run off all over my hands. And I felt that the fit was way too big. How could that be? I sewed based off my measurements. (It was only later I realized I should be sewing off off finished garment measurements). The quilting cotton was also very stiff. So in the end the pants weren't exactly wearable but I learned a lot about my patience level and acquired knowledge on pants construction. I felt bad I had wasted fabric but The Viking told me that it's all part of the process. I just vowed to myself I'd do everything I could to learn more about fabric.

And as far as the instructions go, they were very straightforward. I decided to post my first review on on them: Tilly and the Buttons Margot Pajamas pattern review by RosieSews2. I figured if we buy things based off reviews on Amazon, then I should do my part and review the sewing pattern too.

To my surprise I got a lot of comments and feedback- all very encouraging! It made me feel so welcome in the sewing community and gave me hope to create more garments and post more reviews.