Deep Thoughts
Goodbye 2021!
And now….(drumroll please) time for the 2021 round up! I'm a big Excel nerd so here we go! For those who don't like numbers feel free to just look at the pie chart, lol.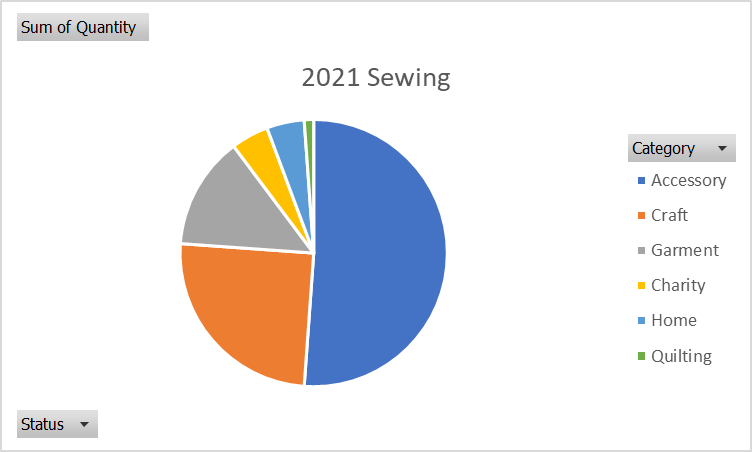 | | | | |
| --- | --- | --- | --- |
| 2021 Sewing by Category | | | |
| | Quantity | # of unfinished UFO | Grand Total |
| Accessory | 45 | | 45 |
| Craft | 22 | | 22 |
| Garment | 12 | 2 | 14 |
| Charity | 4 | | 4 |
| Home | 4 | | 4 |
| Quilting | 1 | 2 | 3 |
| Grand Total | 88 | 4 | 92 |
I thought I was a garment sewist?
Ending 2021 with 90 sewn items, not including the 2 unfinished garments. Why were those unfinished?! I lost the directions to the skirt and the top isn't fitted correctly. Both were made during a class in which I was given the pattern DAY OF, so I had zero time to fit/plan in advance. I will not be taking those kinds of classes in 2022- I really time to plan. The 2 quilt tops are considered UFO since I still have to bind and quilt them. But the majority of it is sewn so I am including them in the total sewn count.
2021 Sewing Breakdown by Item
Item
Category
Quantity
Status
Masks
Accessory
26
Ornaments
Craft
20
Tops
Garment
7
Cosmetic Bags
Accessory
6
Cosmetic Flat Pouches
Accessory
4
Baptismal Bibs
Charity
4
Pants
Garment
2
Dresses
Garment
2
byAnnie Easy Does It Bag
Accessory
2
Curling Iron Cases
Accessory
2
Kindle Cases
Accessory
2
Pillows
Home
2
Quilt Tops
Quilting
2
UFO
Quilt Runner
Home
2
Skirt
Garment
1
Skirt
Garment
1
UFO
Tops
Garment
1
UFO
Sashiko Flat Pouch
Accessory
1
Tissue Case
Accessory
1
Handbag
Accessory
1
Luggage Tag
Craft
1
Pincushion
Craft
1
Mat Sized Quilt
Quilting
1
TOTAL
92
Lots of small things!
Analysis

Most of what I sewed in 2021 was small accessory and craft items. I lost my sew-jo midyear so that attributed to the low number of sewn garments. Even though it was low I did still learn a lot this year. I also didn't anticipate venturing so much into the quilting world.
Masks topping the chart again for highest quantity the 2nd year in a row. Bah, can't get away from the mask! #2 top spot goes to the 20 ornaments- all Christmas gifts.
Surprising on the number of actual garments sewn- only TWELVE items. That's not a lot at all and not nearly the amount I thought I would sew this year.

I must really enjoy sewing bags because I sewed 15 different variations of them! Out of all of those I only kept 2, the rest were given away as gifts.
The charity sewing is based on the baptismal bibs that are ready to be sewn, (someone else embroiders them and tells me when they are ready) so I can't really increase that number for 2022.

2021 Goals Missed

Revisiting this post- 2020 Roundup and 2021 Plans – Rosie Sews Too , the BIG GOAL I missed was to sew silk/chiffon and work with harder to sew fabrics. Sequins, tulle, etc. I had been dreaming of creating things using luxurious fabrics ever since I started sewing, so I am making this a priority in 2022.
I also don't think I'm "Advanced Intermediate" level either…but I'm getting there! The Viking says goals are just that..goals. NOT deadlines. That goal seemed really important to me at the start of 2021 but now not so much. Honestly I don't really care what level I am in. Just want to be able to have the knowledge to create! I have a lot of new books about couture and patternmaking and it has been such a joy reading and studying them the past couple of weeks.
2021 Goals Made

Learned buttons and buttonholes– PJ set during Sewing Bee in March
Learned draping– Started reading/studying this in Jan. (I don't ever expect to be a master at this, lol- this will be a life long learning thing)
Self drafted patterns– Colored denim Peacock dress Sewing Bee in March, Anniversary Contest Quilt dress in November
Quilting– Took my 1st sewing class in Jan, made a table runner in April (was not blogged), and 2 quilt tops Oct & Nov

I also learned more couture style techniques and handsewing. This was not a goal but it happened!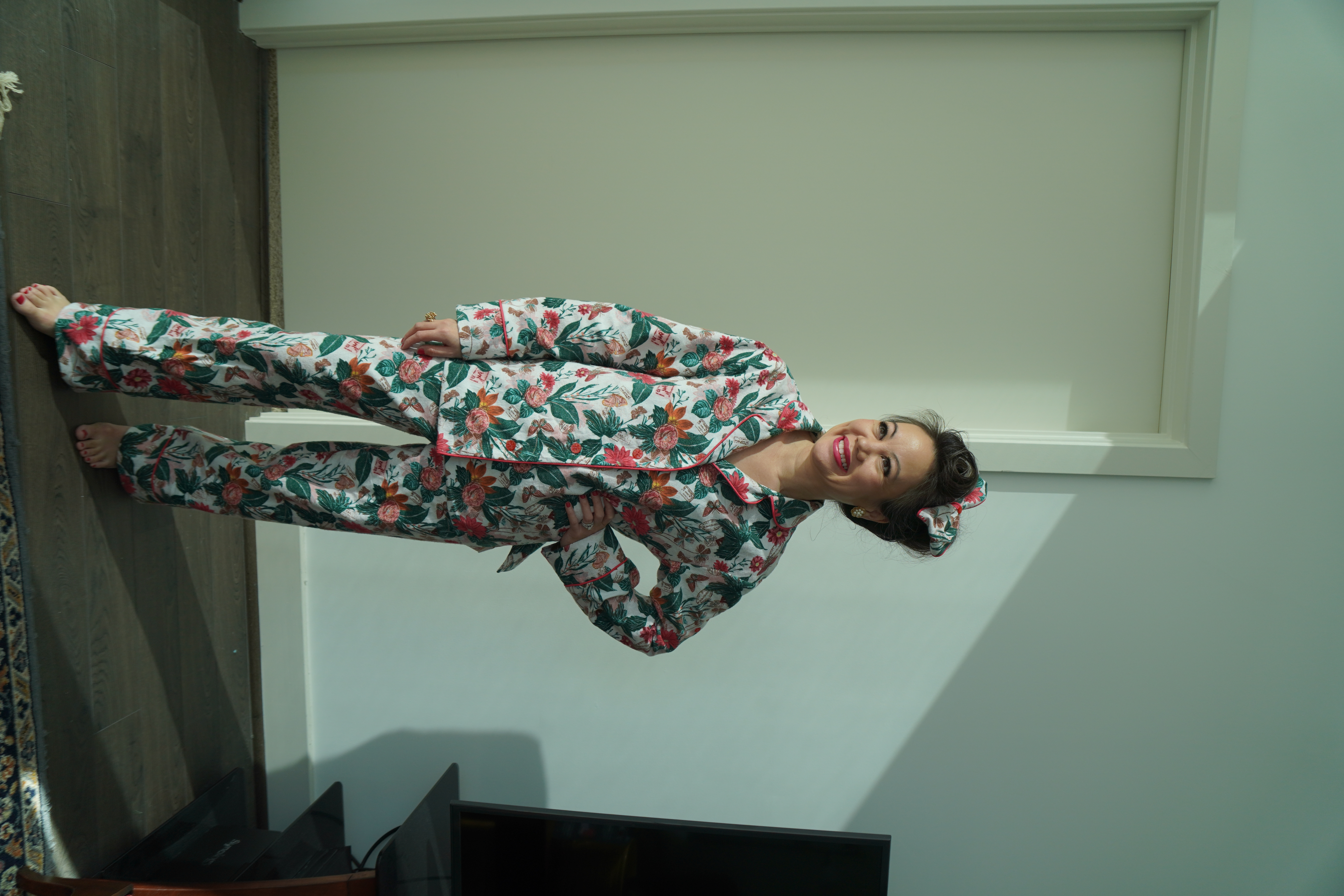 Even though garment sewing sits at #3 on the list, I'm really proud of the clothing I did make in 2021. Everything was well sewn and I can see my sewing skills progress over the course of this year.
Sidenote- The most viewed blog post was my frankenpattern terno top, probably because those butterfly sleeves are so unique. Looking back, that IS a pretty cool looking top paying homage to the Philippines national dress.
These garments are also the highlights of my year! That PJ set gets a lot of usage and the self-drafted dresses reflect my personal style the most. And I think it's pretty awesome I made a few quilt tops too. Even with my sew-jo lost for a few months it still was a very productive sewing year.
Now it's time to close out this chapter. I bid farewell to 2021 and to you a Happy New Years Eve. Hey 2022- see you soon!