Pattern Review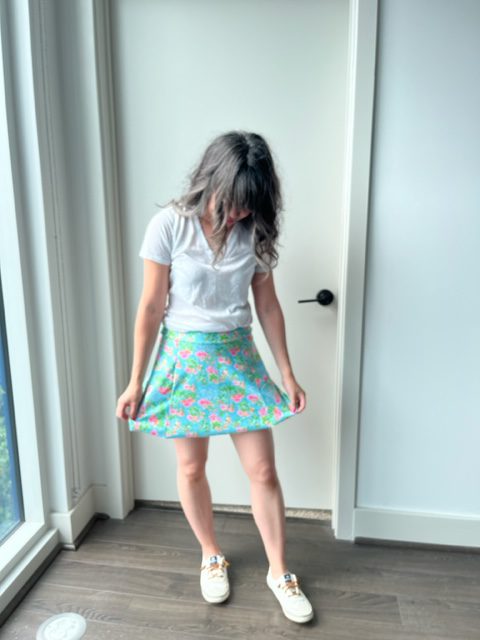 Jalie Loulouxe Skort: Disney/Lilla
Let's continue on with more Lilla Pulister aka faux Lilly Pulitzer! 😉 I had some Disney fabric leftover from the Clara legging so how about a skort?
The Loulouxe pattern is little more complex since it has shorts underneath. But nothing we can't handle! I sewed the pattern as is from the envelope as a wearable muslin. What I am finding is that once you find your Jalie size, you're likely going to be the same size across all styles.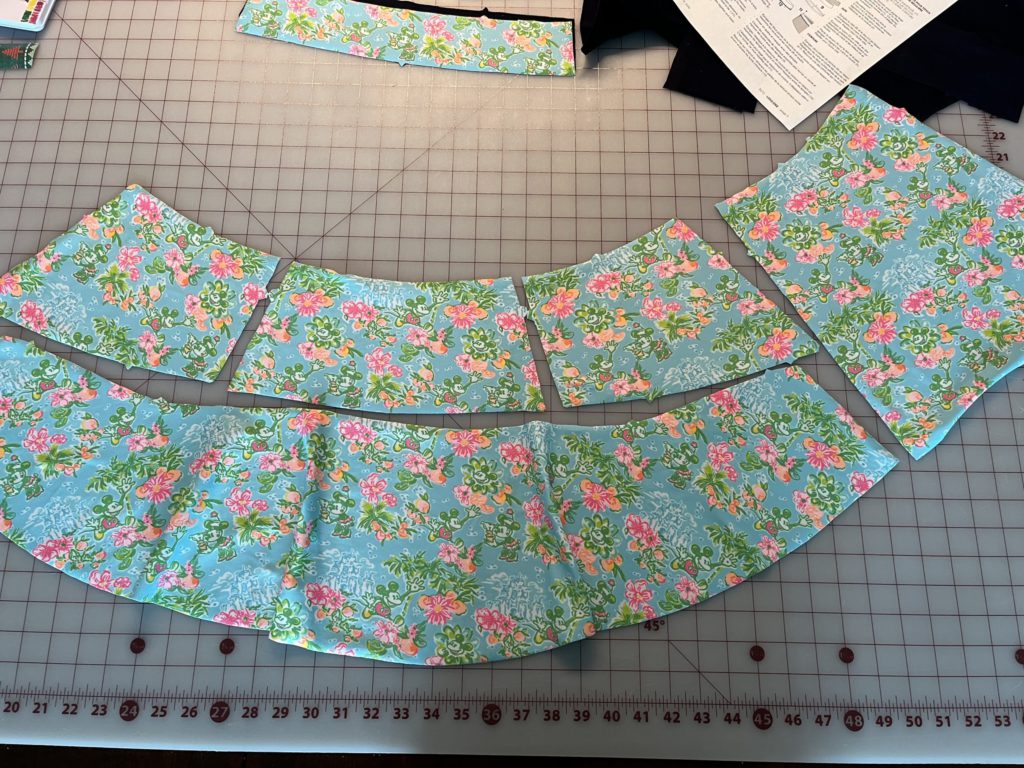 The skirt sewed together as quickly as the legging.
Most of the work went into the shorts. I used leftover navy scraps from the first time I made leggings. Next time I would use a more fun color. I also was too lazy in switching out my serger thread colors so you can see some of my threads poking though in the final product. But it's all good!
The only part that was a little confusing in the instructions was the crotch panel. Here are my pics. Flip it over so the right side faces you. Roll top and bottom parts towards each other. Sew the gusset flap down and pull through. You'll have a nice clean seam. Hide the mess is my mantra.
Add your cuffs and ta-da! Shorts!
From there the shorts are sewn onto the skirt. Or the skirt is sewn onto the shorts? Say that three times fast. 😉
Final product-
There is a tiny roll at the back waistband. I think this means I have a swayback? Not sure, but it works. I really like the flounce and drape.
I took a chance on this skort as a wearable muslin. I wore this a full day walking around Disneyworld. It was very comfortable and endured thousands of steps, rides, and LOTS of food, lol. I even walked into the Lilly store for kicks, silently chuckling to myself. I wonder if the employees could tell it was a Lilla. 😉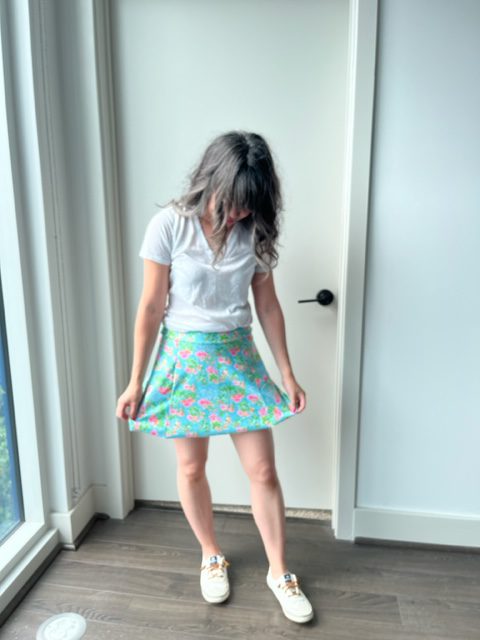 Overall it passed my quality assurance test. But there are some things I'd change for next time:
Create a higher waistband with more compression. Possibly use powermesh
I like the design of the skort but I don't like where the waistband sits. I prefer it a little higher. Back in May when I wore it to Disneyworld I felt it hit me in a bad place and was unflattering. But it did last the entire day of walking around.
2. Pockets lower and wider- I wanted to put my Apple mini 13 phone in here so I could easily grab it to take a picture. But you're lifting it up pretty high, I felt like I was flashing everyone at the park.
3. Shorts length a little longer or eliminate those leg bands all together. They didn't ride up really, just more of a comfort thing for me
4. Maybe a zipper in the back waistband for my phone or a hotel key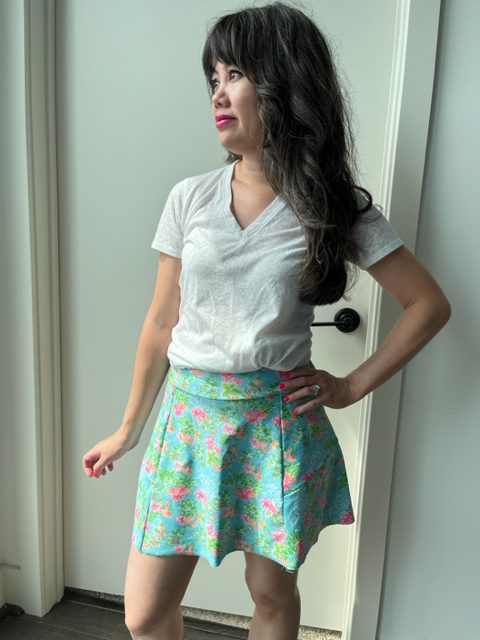 I rated the pattern 4/5 due to the crotch panel constructions not being so clear. But once you get through that part it's a wonderful pattern to add to the collection. It's basically a 2 in 1 and you could sew/wear the shorts by itself.
Official Review: https://sewing.patternreview.com/review/pattern/191223
Lilly Pulitzer doesn't sell a Disney skort but I made my own. It matches my genuine Lilly hat and it's another outfit to wear to Disneyworld. Packs easily with no wrinkles, dries fast and has spandex to really enjoy all those magical sweet treats. Heck yeah!