Pattern Review
Leggings- Simplicity 8212
I had ordered some nylon/spandex navy blue compression fabric from Mood, with the hopes of creating actual leggings. What I liked about this fabric is that is so blue it's almost black and it was very stretchy.

I sewed Simplicity 8212 in a size S based on my body measurements. I was feeling pretty good about this pattern because I had done all those pajamas pants so I knew about the whole "insert one leg into the other" ordeal. But this pattern had a different kind of waistband, a completely separate piece and you had to sew the elastic directly on it (instead of putting it through the casing). So yay, new skills to be learned!

I was happy with the result although they weren't really leggings. They were baggy around the back of the knees so they were more of skinny pants. I read that a lot of sewists have a hard time finding true leggings as a lot of patterns have too much ease. That's ok though, they still worked and fit perfectly in the hips. The higher waistband was a plus for me too. Also, due to the fabric they are extremely comfortable!

Official review: Simplicity Misses' Knit Leggings 8212 pattern review by RosieSews2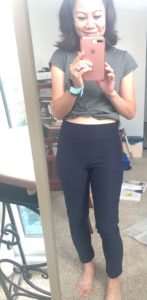 Later during the contest period I was running out of time, so I decided to sew these again using the floral ponte fabric. They were looking a little TOO WILD while I was sewing them (because I don't really like drawing attention to my bum) So I did doubt it mid-way through and almost scrapped the project. The Viking can attest to this! He told me to keep going and make that decision once they are completely sewn. They ended up looking pretty snazzy and working out really well once the contest was complete. Once again, The Viking was right.