Pattern Review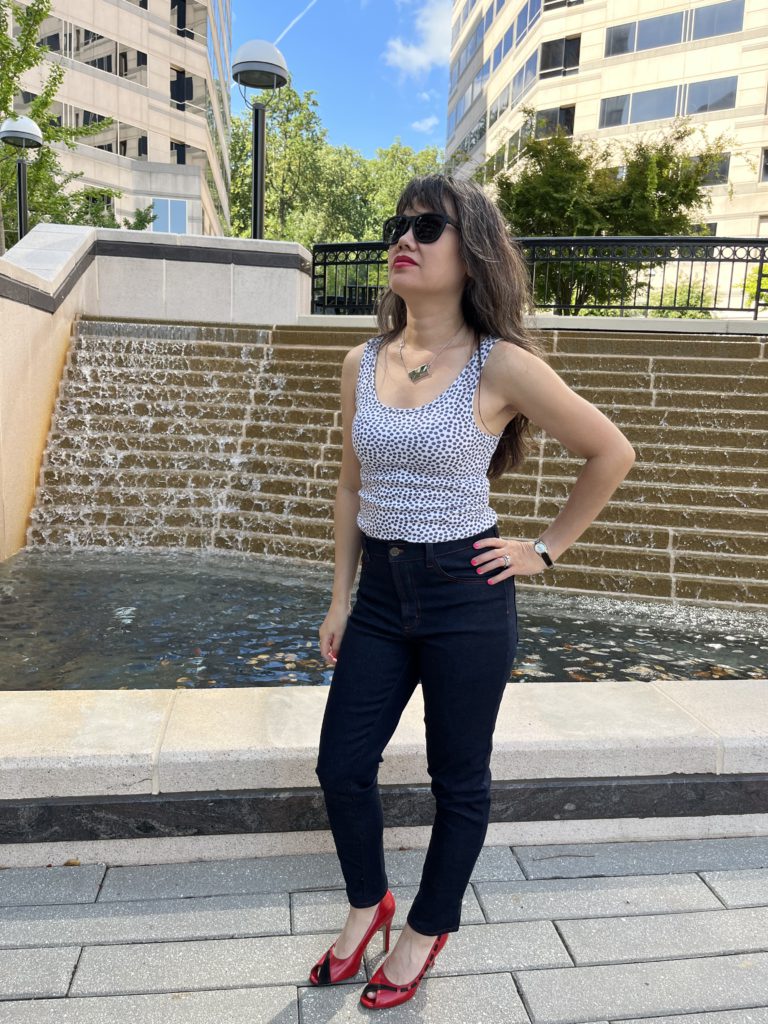 It's In My Jeans…Ginger Jeans!
Presenting the Ginger Jeans by Closet Core. The fruit of my labor at sewing camp… and my first time sewing jeans.
To Recap: I sewed a size 6, view B- the high waist skinny leg. Since we were on a deadline, I don't have specific numerical adjustments. I took in a little at the center back and shaved off some in the hips and thighs. Length was shortened about 4 inches or so. The pattern is well drafted, with very minor adjustments.
My topstitching setting was at 4 length and I used regular thread in the bobbin. A walking foot was used for the entire thing.
The denim is Cone Mills S-Gene stretch denim from Make it Sew. I used the floral fabric I purchased at Duke's Antique Center as the lining. These jeans are truly a souvenir from Lexington, VA.
I can't get over the awesome fly zip fly. Between the lining, purple zipper and yellow/green serger thread, all that color explosion makes me so happy.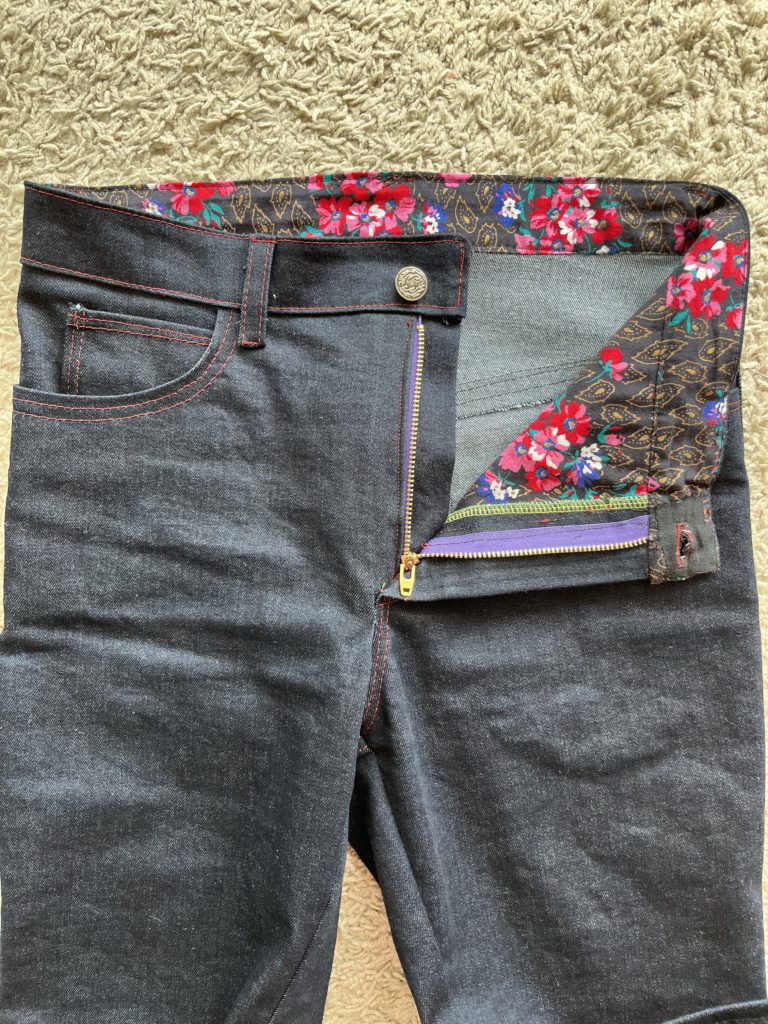 Here are my glamour shots-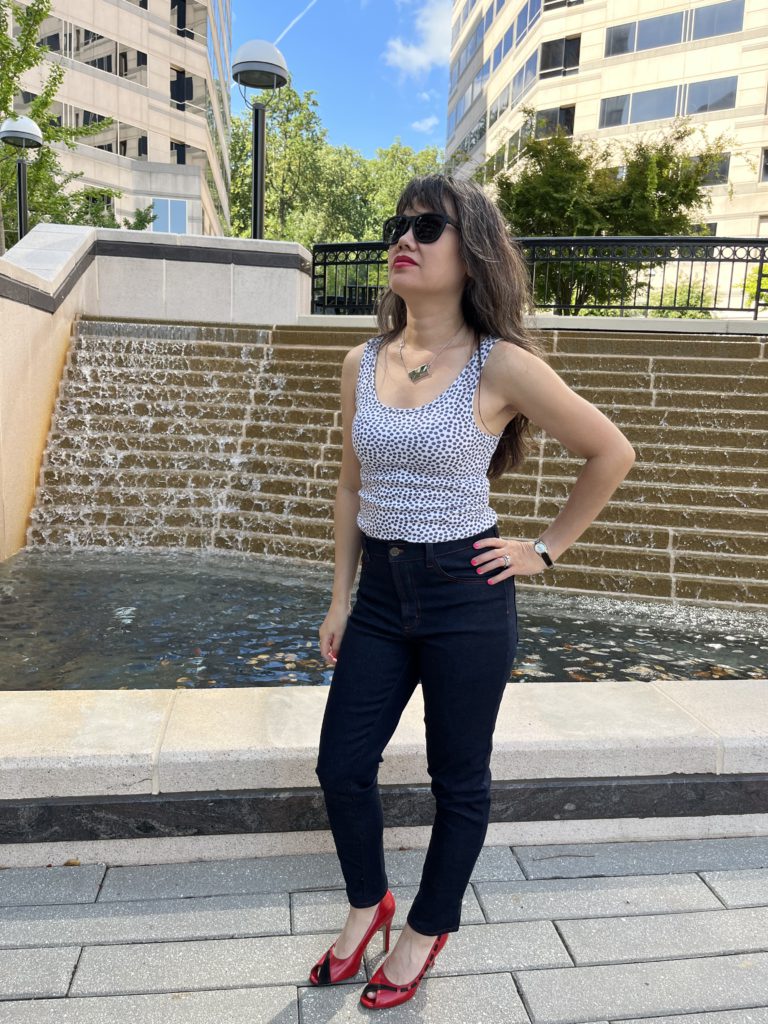 Analysis: I have to admit, they look pretty great in the photos. But after wearing them around I do believe I have some minor fit issues. First off, these are supposed to be high waisted. They are high, but they hit me at a bad point right at my navel, not at my natural waist. I think this is what is causing the front to have a smidgeon of extra fabric in the rise.
The back looks pretty good though. As far as the wrinkles at the knees? That's pretty normal for me, even in RTW. It doesn't bother me. I am slightly bow-legged so this could be fixed in the future. You could get really nit picky and critical with fitting jeans. Personally, I'm happy with jeans as long as the rise and seat are comfortable.
During sewing camp we didn't muslin the waistband, so I didn't know where it was actually going fall in relation to my body. You can only do so much in these project based classes but I am VERY happy with the final result. This is my first pair of jeans/pants I've ever sewn afterall.
I mean…they are wearable! AND they look great cuffed. Here I am wearing them with more every day realistic shoes. You didn't really think I walk around all day in sky high red patent leather heels, did you?! 😉
As far as the pattern goes, the pocket bag instruction was a bit confusing. I couldn't quite visualize that part so my instructors walked me through it. However, if you are doing this at home there are LOADS of resources on the Closet Core website to help guide you through construction. It's certainly do-able, otherwise this pattern wouldn't be so popular.
I rated the Closet Core Ginger pattern as 5/5 on Pattern Review: https://sewing.patternreview.com/review/pattern/191228
Between the professional looking design, excellent drafting and additional online resources, the Ginger jeans pattern rivals RTW. After some more fitting tweaks, I may never buy RTW jeans again. Hammering in rivets and jeans buttons is just too cool.