Pattern Review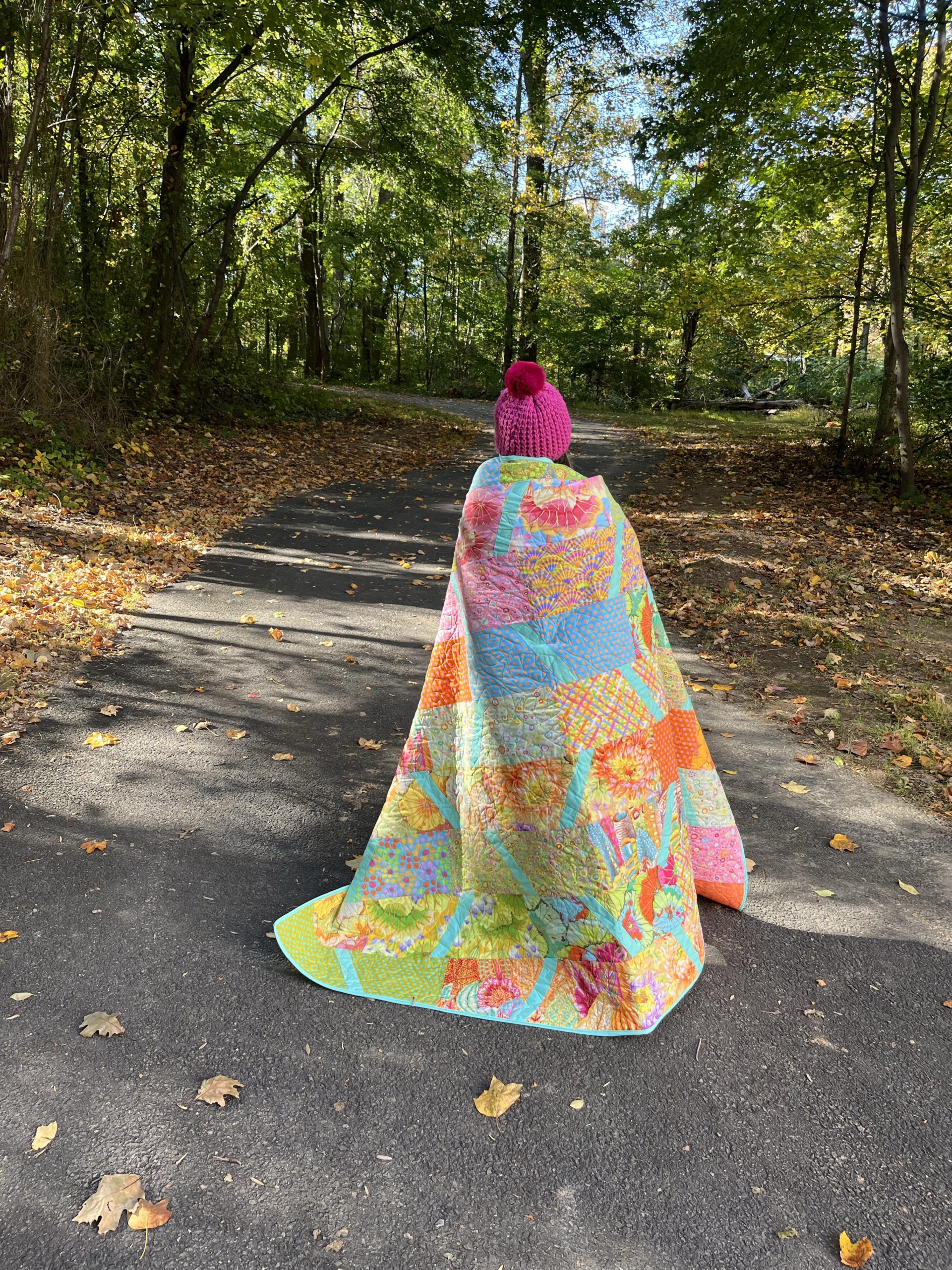 Elvira Quilt
As I mentioned in previous posts, I wanted to backlog a few projects. This is the Elvira quilt, completed last August.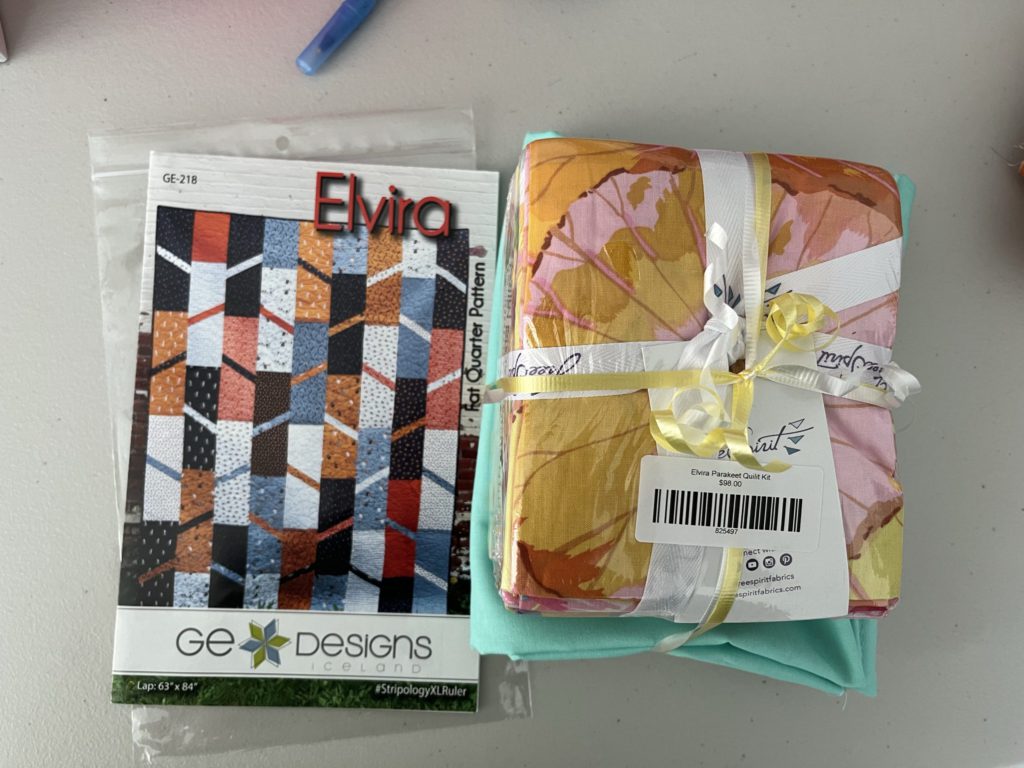 The Viking and I saw this quilt on display at a LQS while on vacation this past summer. He loved it so much and asked me to make it for him. Well, his wish was granted! The quilt kit included a 20 fat quarter bundle by Kaffee Fassett. Kaffe Fassett is one of those designers I always hear about in the Quilting World. Other than the brightly colored prints, I never knew what the hype was. But I'm seeing it now- all the different colors and prints work so well together. This is far from your traditional looking quilt.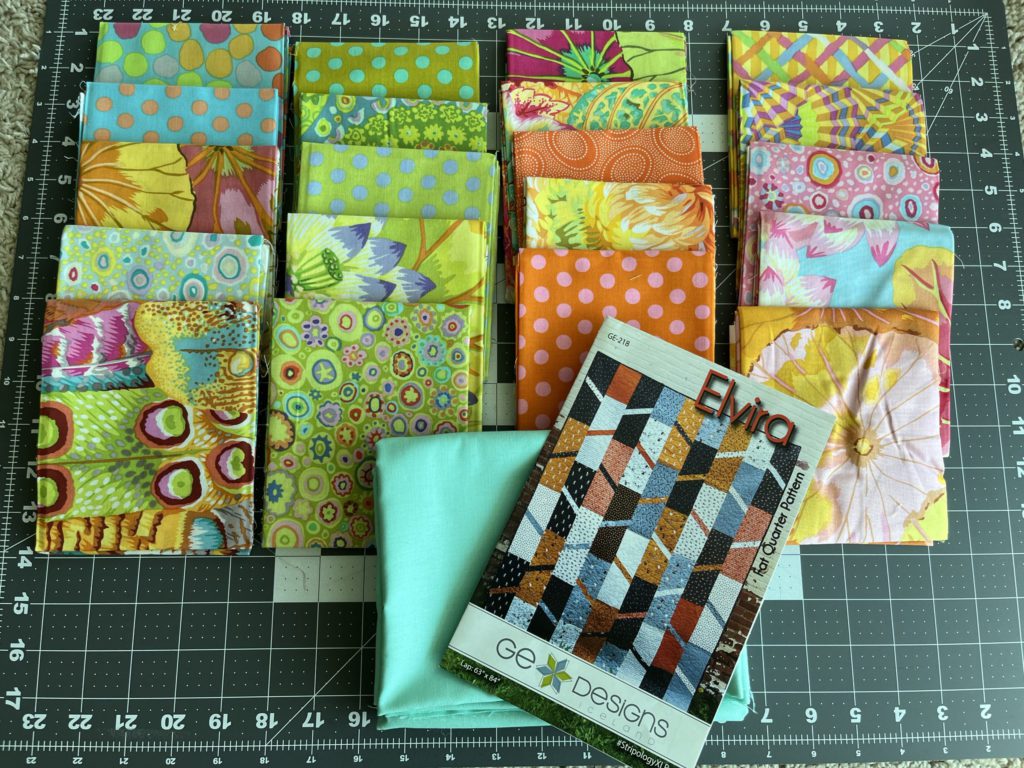 The Elvira quilt pattern is from GE designs, the maker of the Stripology XL ruler. I had no idea when I purchased the quilt kit that I needed this ruler. (I know, it's on the front but somehow I missed that.) Luckily I do own one of these. First time I used it I made a cutting mistake, haha! There is a bit of a learning curve.
As far as construction goes, it's pretty straight forward once you get going. There are also YT videos that help. The pattern also includes instructions on how to make it with a regular ruler.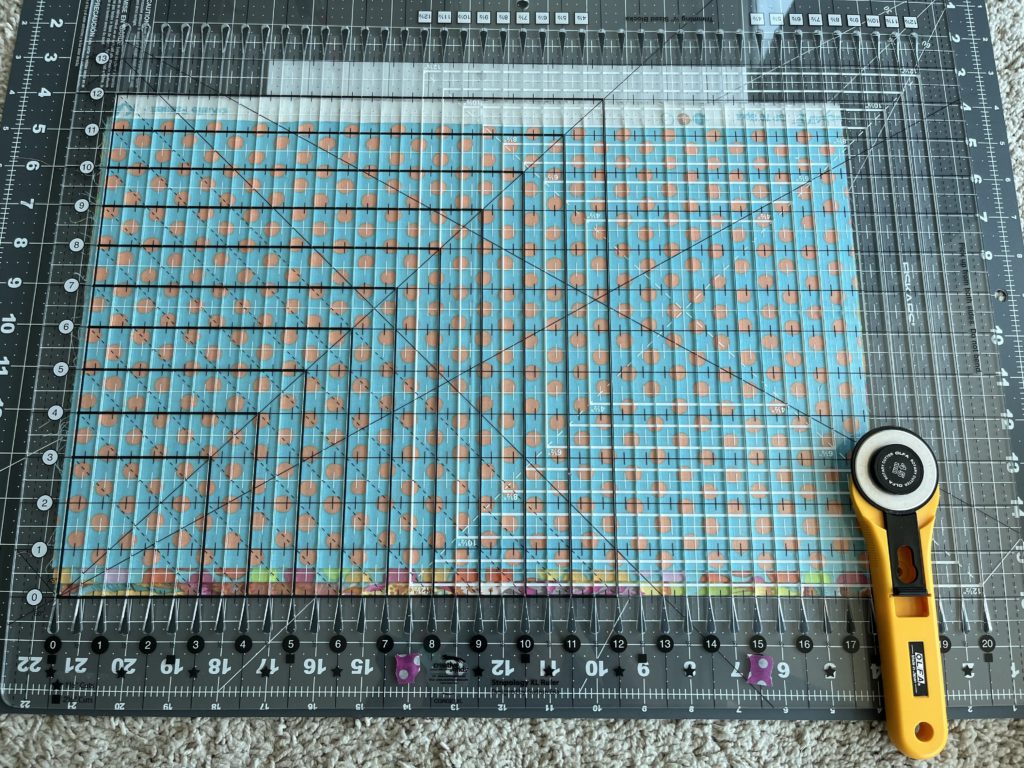 If you are going to make this you will also need a 45 degree triangle ruler or the GE Point trimmer to cut off the dogears. I didn't own either so I went ahead and purchased the GE Point Trimmer 3 pack. It drove me a little crazy having to purchase additional tools just to cut off that tiny bit. But it really does make things a lot easier and the 3 pack comes with a 60, 45 and 30 degree triangles. I'm sure I will use these again for future quilts.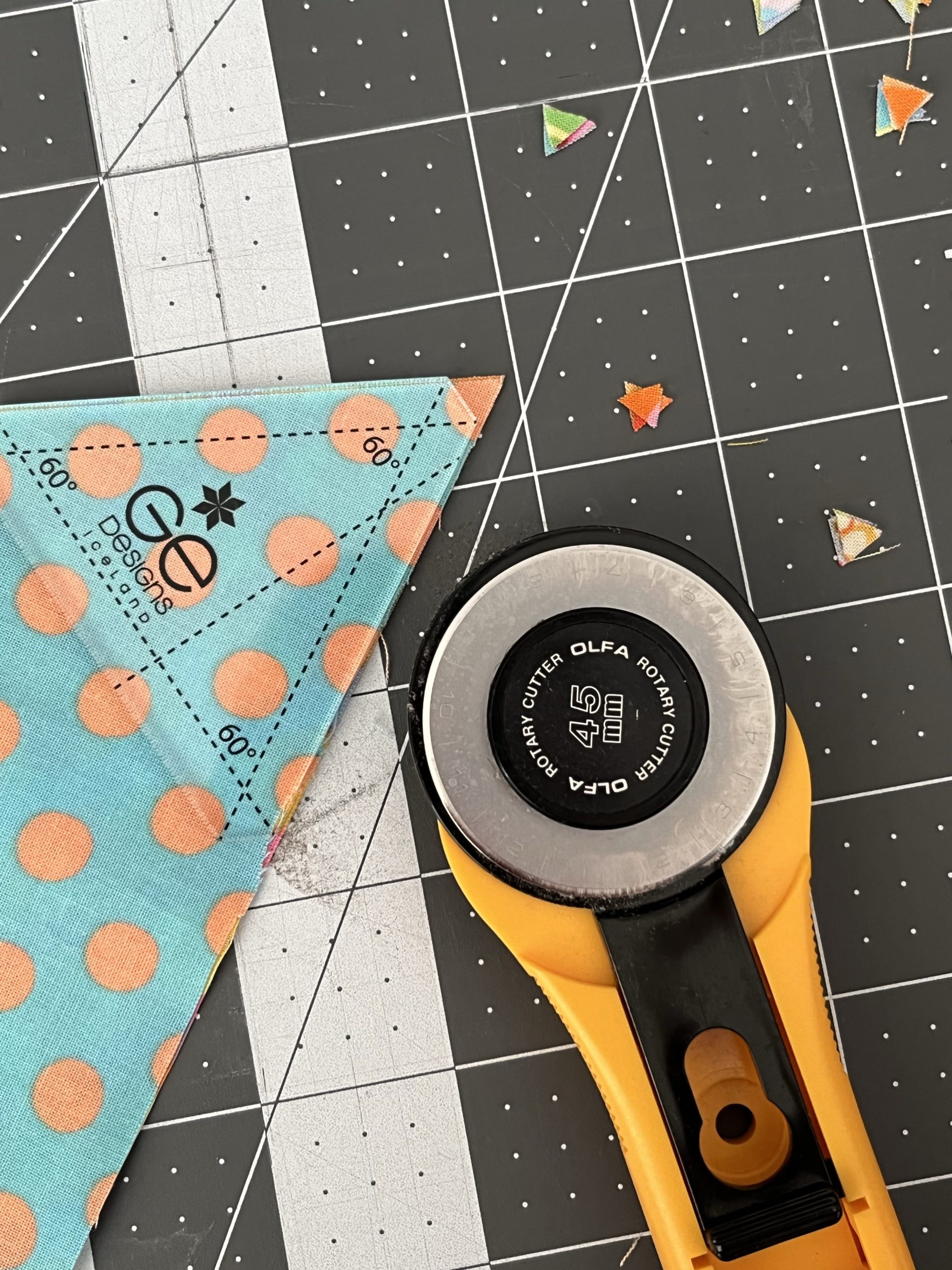 Now for the binding. I used 2.5″ strips. I just learned that the little mark on the end of the foot is the 1/4″ mark. I sew all the way to the bottom edge of the quilt until that mark is in line with the bottom edge. Then I miter the corner and stick a pin where the binding lays flat again. Drop the needle and where it intersects with the pin that's where I know where to start sewing again. I don't know if I explained that very well but that's how I do it! Here's a visual-
Here's how it turned out: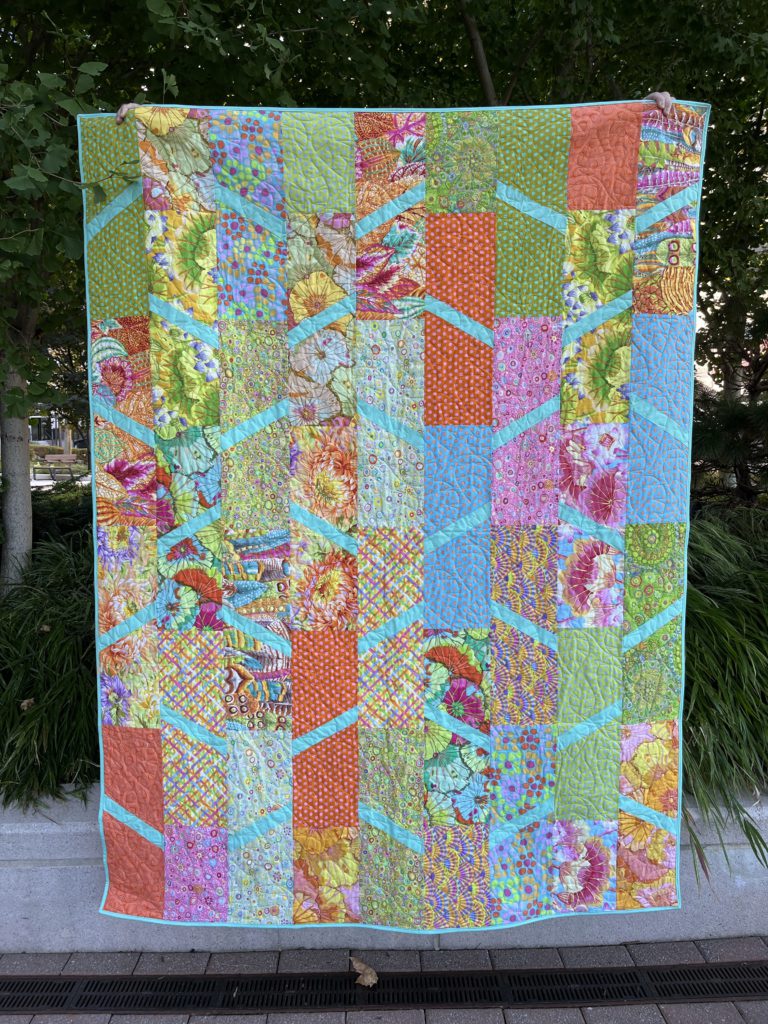 Since the front was so wild and busy I chose a soft buttery yellow for the back. The pantograph is called "Jungle". I think the leaves are just right for the back of the quilt. The whole thing definitely gives tropical vibes.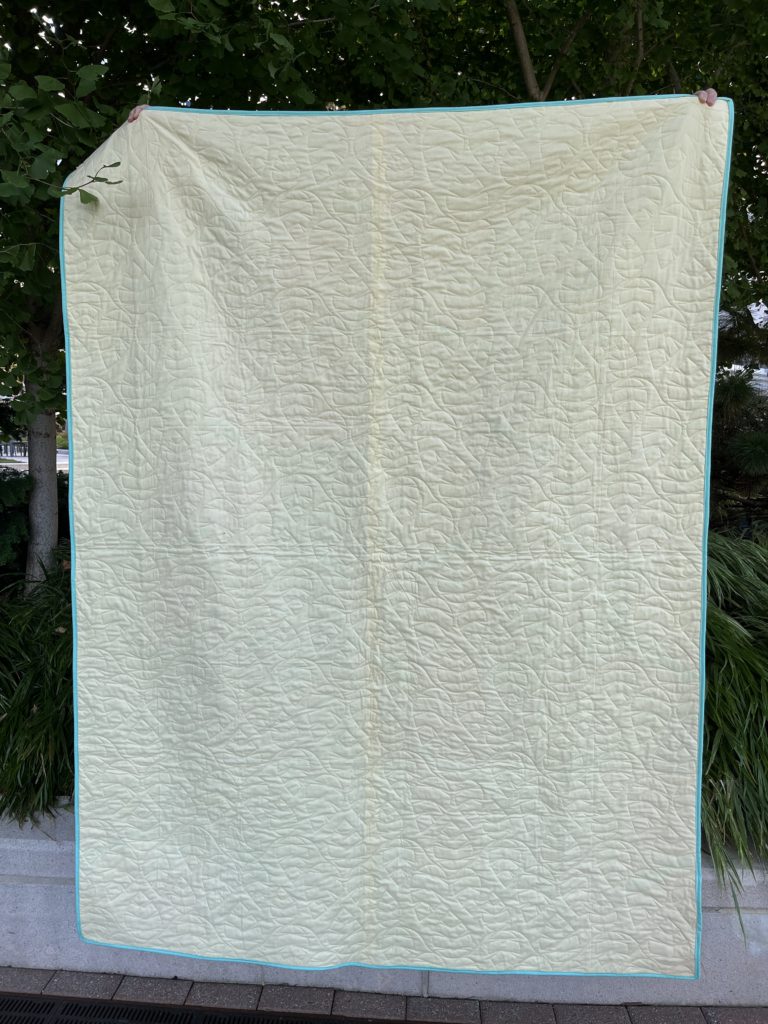 Some closeups:
I always see people taking action shots with their quilts so I thought I'd give it a whirl too!
At 63″ x 84″ this is really an oversized throw. The Viking loves it cuz it actually covers his feet, haha!
My official review is on Pattern Review with a rating of 3/5: https://sewing.patternreview.com/review/pattern/187049
I can see myself making this again using another fat quarter bundle. Just not any time soon😉