Gifts
Christmas Quilts Part 1 (September Completion)
So now may I present the fruit of my labor!
Quilt #1. Red white and blue!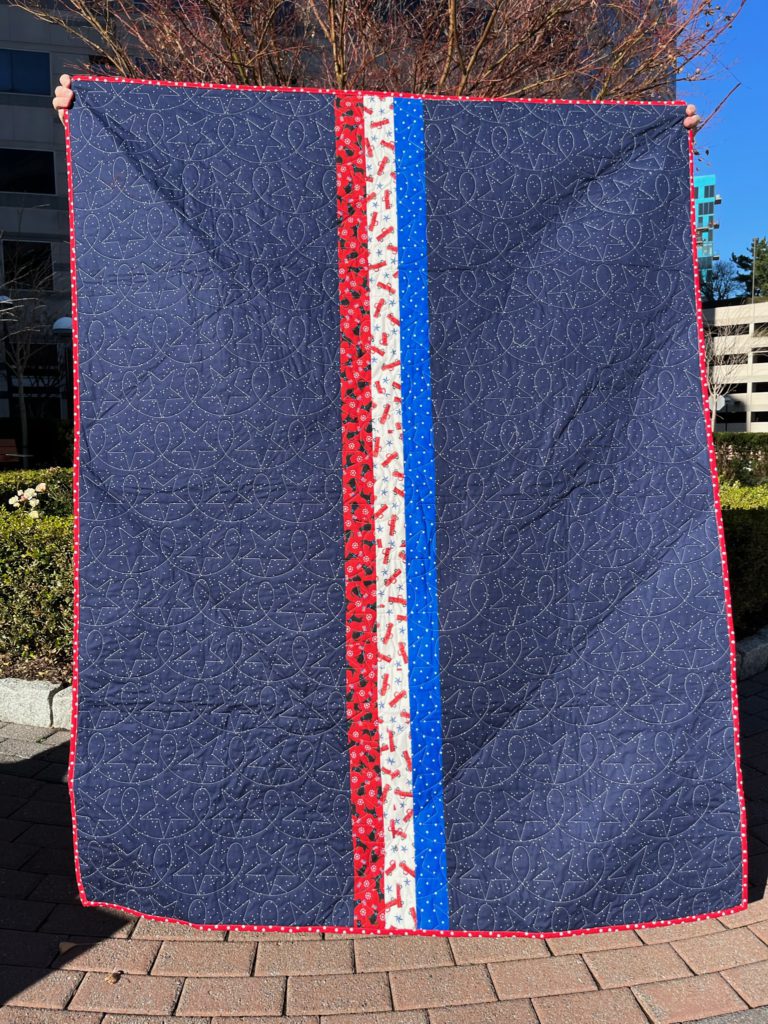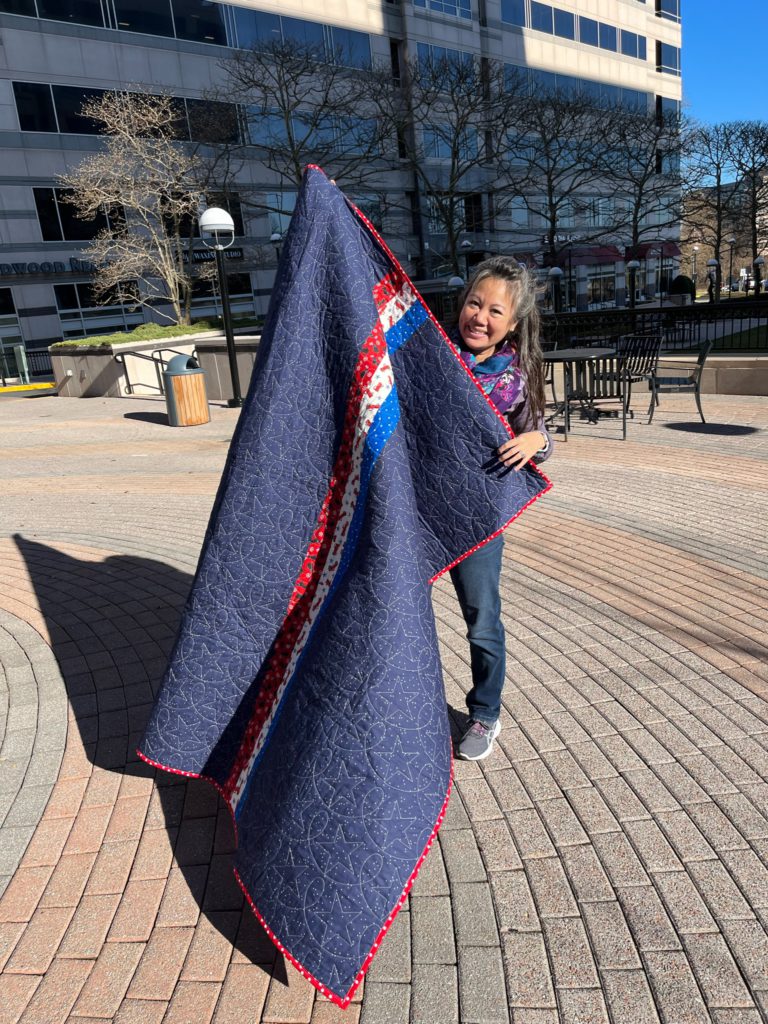 Pattern: Hopscotch
Book: 3 Yard Quilt Favorites
Changes: Added a 5″ border, used 2.5″ binding strips and pieced the back with the leftovers!
Size: Oversized throw at 54″ x 78″
Completion Time: 6 days
Notes: This was the first time I pieced a backing. Between the colors, prints and pantograph, I just love how visually stimulating it is. It really is my favorite quilt out of them all.
Recipient: My Navy vet uncle who has a black lab retriever just like the one in the fabric. When he got it, he hugged it.🙂
Quilt #2: Blue & White Floral
Pattern: Crossroads
Book: Quilts in a Jiffy
Changes: None, I sewed the pattern as is.
Size: Lap size 42″ x 60″
Completion Time: 6 days
Notes: The cobalt blue fabric has gold metallic thread in it. Looks more beautiful in person. Classic pattern and very easy to put together.
Recipient: My parents. Blue is my mom's favorite color. She's a little eccentric and says she'll use it as a tablecloth. (I know, she's so weird, lol)
Quilt #3: Green/Blue Quilt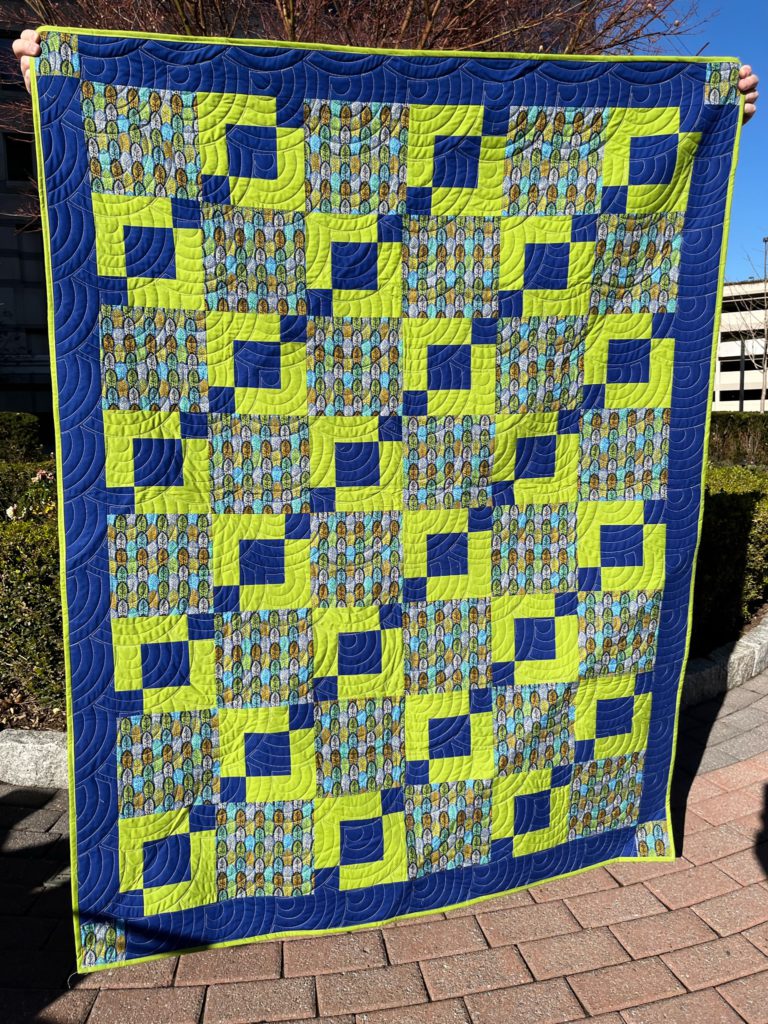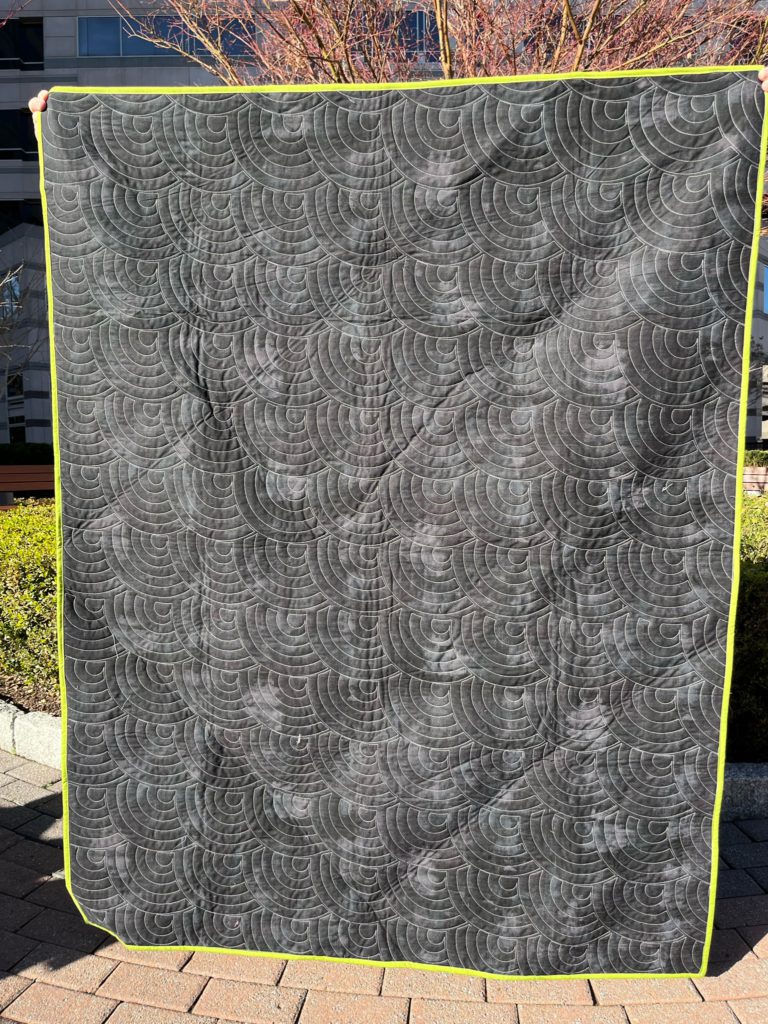 Pattern: Stepping Stones
Book: Pretty Darn Quick
Changes: Added an additional row on the side and bottom. Used 2.5″ binding strips.
Size: Oversized throw 50″ x 66″
Completion Time: 7 days
Notes: I used my new computer program EQ8 to see this before I sewed it! The program is really cool. I wasn't sure about that green at first (I think it looks a little like a bright pea green) but it turned out visually striking as well.
Recipient: My brother. Coincidentally the green I was unsure about is his favorite part! As soon as he got it he wrapped it around his body and had it around him the rest of the eve.🙂