Plans
Revisiting Quilting
"Hello Quilting my old friend…I've come to sew with you again…" (Sung to the tune of "Sound of Silence" by Simon and Garfunkel) I know, so cheesy, lol.

Taking a break from garment sewing and back in the Quilting World. My latest project is the Nine Patch quilt from Fabric Cafe's book "3 Yard Favorites" 2nd Edition.

I really like the concept of a 3 yard quilt. Between patterns and fabrics, there are just so many choices that can cause decision fatigue. Sticking to only 3 fabrics makes things so much easier, and the way the Fabric Cafe books are laid out it makes it even more simple. I am a fan.

Here are my fabrics. I purchased this 3 yard preassembled bundle at the oh-so-famous Old Country Store in Intercourse, PA last Fall. It was about that time when I started to fall down the quilting rabbit hole, lol.
I normally like to choose my own fabrics but this was a total impulse buy. I am undecided on this chartreuse color. I think it's a little bright and maybe a muted coral would look better. However, I am going to go with it since someone with a lot more quilting experience hand assembled it and thought it'd look good. I will trust their judgement.

Lancaster, PA and the surrounding areas are so beautiful during the Autumn season. So many vibrant colors! The Viking and I had a lovely day trip exploring the town. If you are ever near the area I highly suggest visiting. The Old Country Store was voted one of the best quilt shops in the country. (I actually didn't know this until after we visited)
Kitchen Kettle Village is the where you want to go! All the shops are walking distance from each other. You could have a grand old time perusing them all. I know I did.
I found so much quilt inspiration in this Village Handmade store.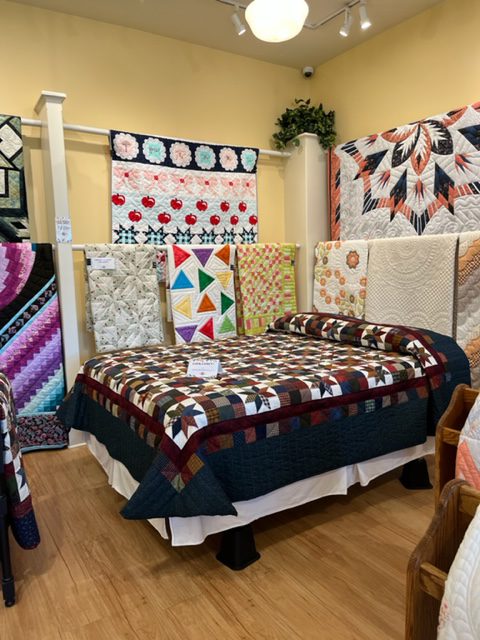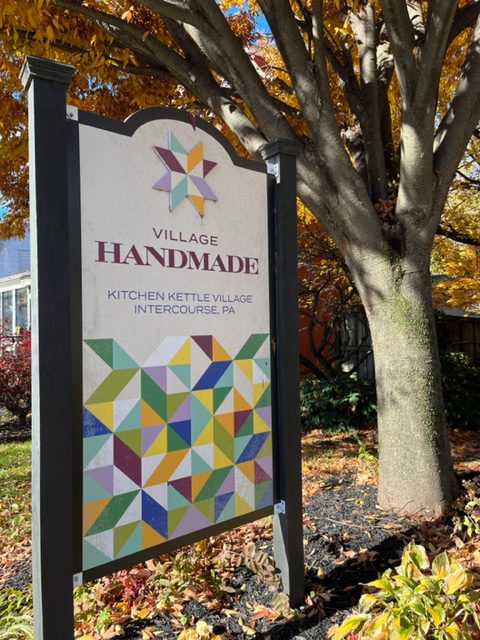 On our way home we asked GPS to show us a Farmers Market nearby to purchase fresh fruits, vegetables and beef. I wish I had gotten the name of this place. I was surprised to see a store with no employees.
Yep, everything was out for purchase but nobody around. It's completely self serve! All honor system. Cash only? Nope. They take credit cards. You would never see this kind of thing in the Big City. It was a really cool trip and experience.
Back to sewing 😉
So far Nine Patch is showing itself to be a quick sew. I completely forgot how much fun quilting is…straight lines galore! I will elaborate on Fabric Cafe's pattern and book once it is finished.