Charity Sewing
Baptismal Garment
As soon as I learned of the Baptismal Ministry, I knew I wanted to volunteer. What better way to use my sewing skills for the good of others?! Besides, it'll be for a baby so it wouldn't be as daunting as sewing an entire dress with fittings, etc. etc. With a renewed spirit, I was anxious to roll up my sleeves and get going.
To my surprise, the pieces were already (mostly) cut out! The front and back shapes were already cut and the embroidery was already hand embroidered by the Leader. I am hoping one day to learn this part- not only to complete the entire thing myself but also to learn embroidery. It's just so lovely.
My part was to cut out the neck hole, split cut the back piece, cut a ribbon in half, sew it to the top of each side for a closure and sew on the tag. Then finish with a 1/4″ seam allowance all around, flip inside out and press. The material is cotton so it was a dream to press. Voila! A bib!

The first one was a little tricky since I didn't really have instructions with pictures. But I had a finished one and just copied that. I forgot how much thinking is involved with sewing. Trying to think how to attach that tag without it showing on the outside then turning it. Do I sew it on the right side of the bib or the wrong side??!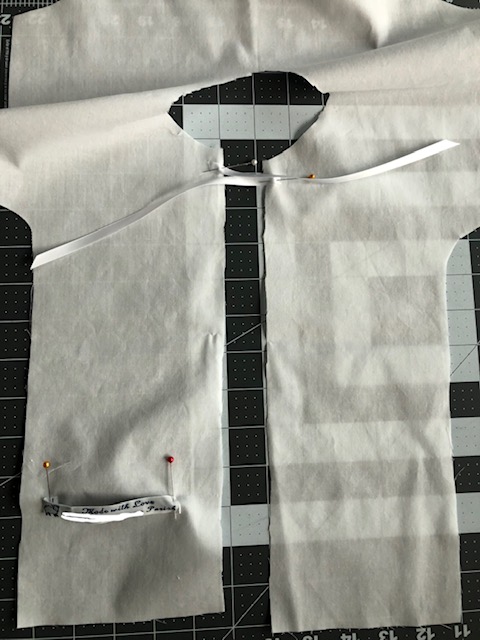 I could feel my brain working again. It was a great feeling. Oh and the joy of sewing curves and clipping them, lol!

Once I was done I felt really excited and happy to see the finished product. And like I mentioned in my last post- a baby happened to be baptized on the day I returned them to the Church. So I actually got to see with my own two eyeballs the JOY on the parents faces during the Baptismal and the lucky little recipient wearing his new bib.❤️