Gifts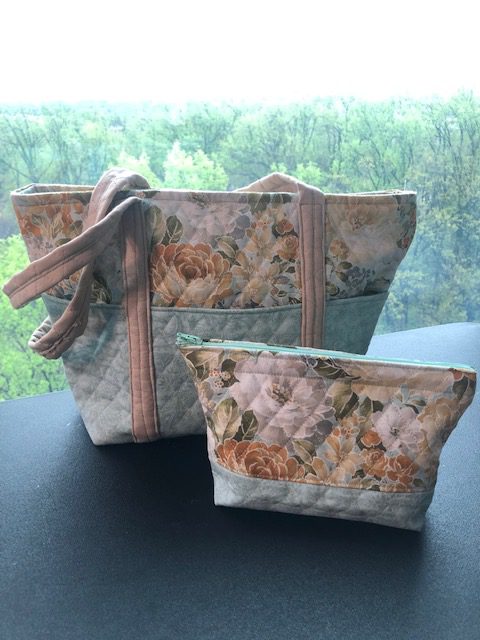 Kwik Sew 4288 Continued: Tote Bag
Continuing my Pattern Bingo on this Kwik Sew pattern! 2 out of the 5 views have been made, let's go for 1 more with the tote bag!
Making a bag has always on my list of "to make". I had some leftover pre-quilted fabric so I decided to sew View A of Kwik Sew 4288. I found the instructions to be very clear- it uses similar techniques as the little cosmetic bag. I'm actually glad I did the cosmetic bag first so I had practice for the big purse pieces.

The only thing I didn't like about this pattern was making the strap. It is 3 long rectangles sewn into one long circle. They want you to press 3/8″ on one side, and since I used thick pre-quilted cotton it was pretty thick and cumbersome. Next time I might use webbing material for the strap.

Joanns was sold out of the floral fabric so I had to make the strap out of plain beige. Because of this the floral wasn't shown off as much, but I think it still looks nice. The pre-quilted fabric is more sturdy but I plan to add a plastic piece to the bottom to give it even more stability.
I didn't end up shortening the 14″ zipper but it still works too. I was surprised to see how this bag was constructed. For some reason I thought there would be a separate bottom but I was wrong! I'm totally digging the outside pockets- there are six.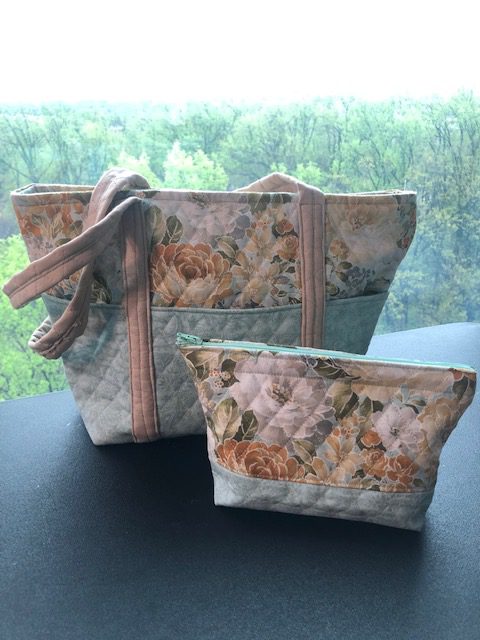 You could probably make this in an afternoon but I spread it out over the course of a few days. This bag is the perfect size at 9.5″ x 12″ and totally looks Vera Bradley-ish. I look forward to giving to this to my mom on her birthday.🙂