Pattern Review
My First Garment Sewing Class: Adrienne Blouse
Last week I attended my first garment sewing class at a local shop. We made the Adrienne Blouse by Friday Pattern Company. The class happened to fall during Sewing Bee Round 2, so I was all out of sorts.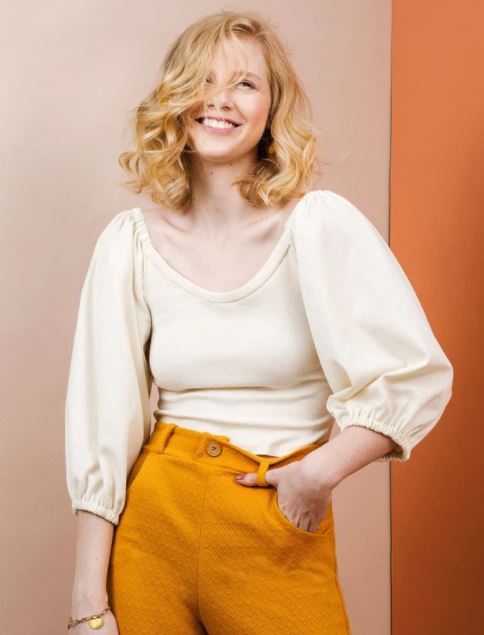 There was only one other student. Boy was she a hoot! We had an entire 6 foot table to ourselves and she rolled in (literally) with a sewing machine wagon with all her stuff. Looked like she was moving in! During her setup I watched her unfold her sewing mat, take out 2 scissor holders (with like 5 pairs in each), a sewing chest with every machine foot imaginable, (later learning this is called a "Bernina Barbie Case") and a huge tabletop tackle box looking thing with drawers. The entire table was full of stuff and on full display…it looked like she was advertising for a craft fair. Her fabric was transported in a large plastic king size comforter bag too.
Her response? "I go to a lot of Sewing retreats." Lol, I was totally entertained/intrigued by it all.

The class was only 4 hours and we had to have the fabric cut beforehand. I had ZERO time to tissue fit but had read that the Adrienne runs a bit small so I sized up to a S. An hour before class I was rushing and for the first time ever I made a mistake in cutting!!! I actually had to rebuy and recut more fabric once I got to the store. I was kicking myself because how could you mess up cutting a 3 piece pattern?! I'm pretty sure I was just frazzled from the long week.

The top came together pretty quickly since it's only 3 pieces. The front and back pattern are exactly the same, a sleeve and a neckband. We followed the instructor's direction in putting it together. She made one too alongside us. I tried to stay alert but I think I was just so wiped from the previous week that I made many mistakes. I accidently sewed the back on inside out BAH. (Luckily you can't tell). I didn't press all my seams or exact measure the channel folds due to the time constraint and I wasn't able to really take my time fitting as I sewed.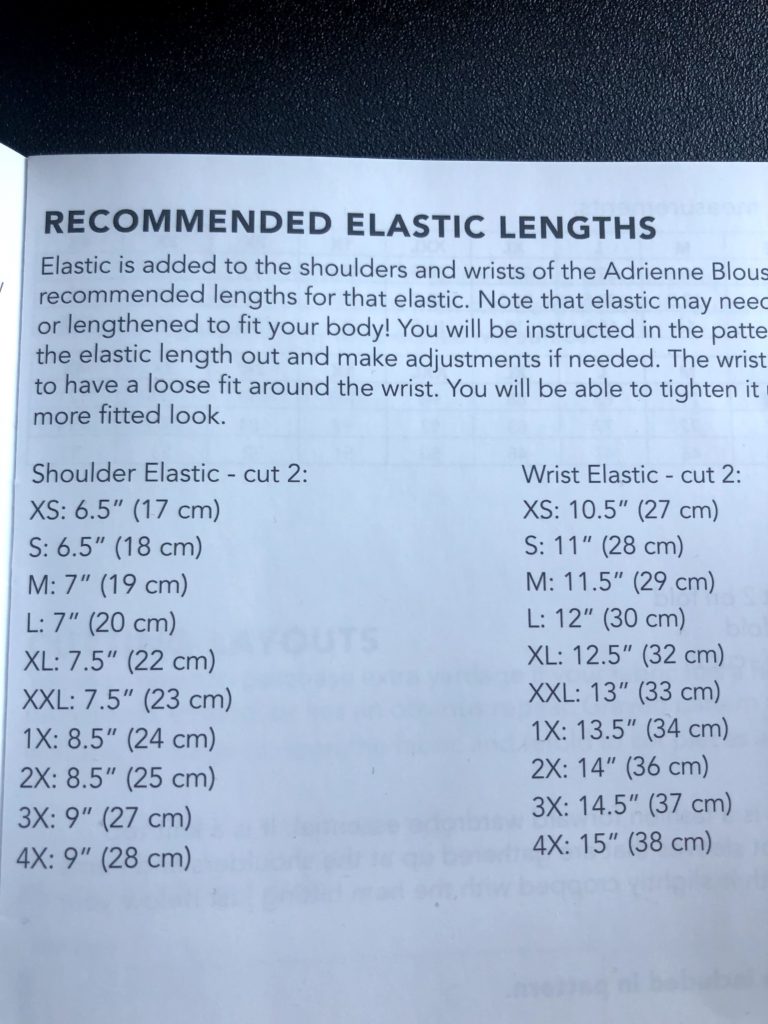 As far as the pattern goes, it includes all sizes XS-4X which is the widest size range I've seen all in one envelope. This was my first "indie sew" and I found the instructions to be very clear. It includes recommended elastic lengths which was really helpful. Gathering is the only technique used too. It's a very good beginner pattern. If you can make a drawstring bag, you could make this top!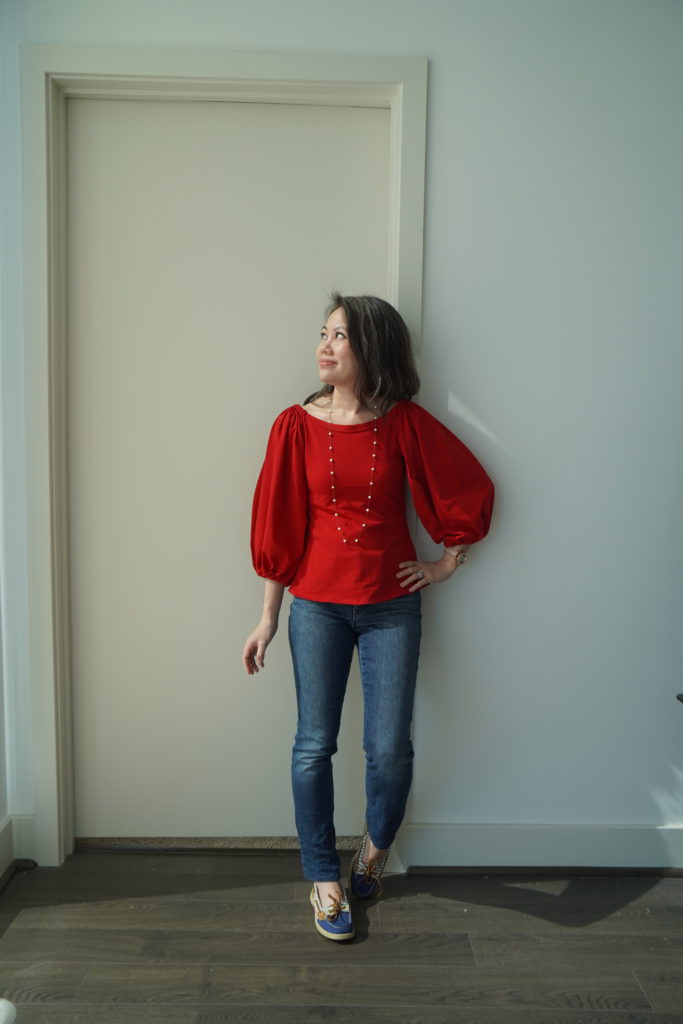 I rated it 5 stars on pattern review. Friday Pattern Company Adrienne Blouse Adrienne Blouse pattern review by RosieSews2
It photographs well but I am undecided if I like the top on me. I think the sleeves are a bit too full for my frame and I kinda feel like a pirate.
If I end up sewing this again I would do the following:
Remove 1-1.5″ inches of sleeve fullness
Remove 0.5″-1″ from sleeve length
Remove 0.5″ from the suggested wrist elastic length
Perhaps in time I will like this blouse- it's made of cotton/spandex so it is really comfortable to wear. In my attempt to like it more I styled it with different RTW pieces. I think it looks best with the skirt.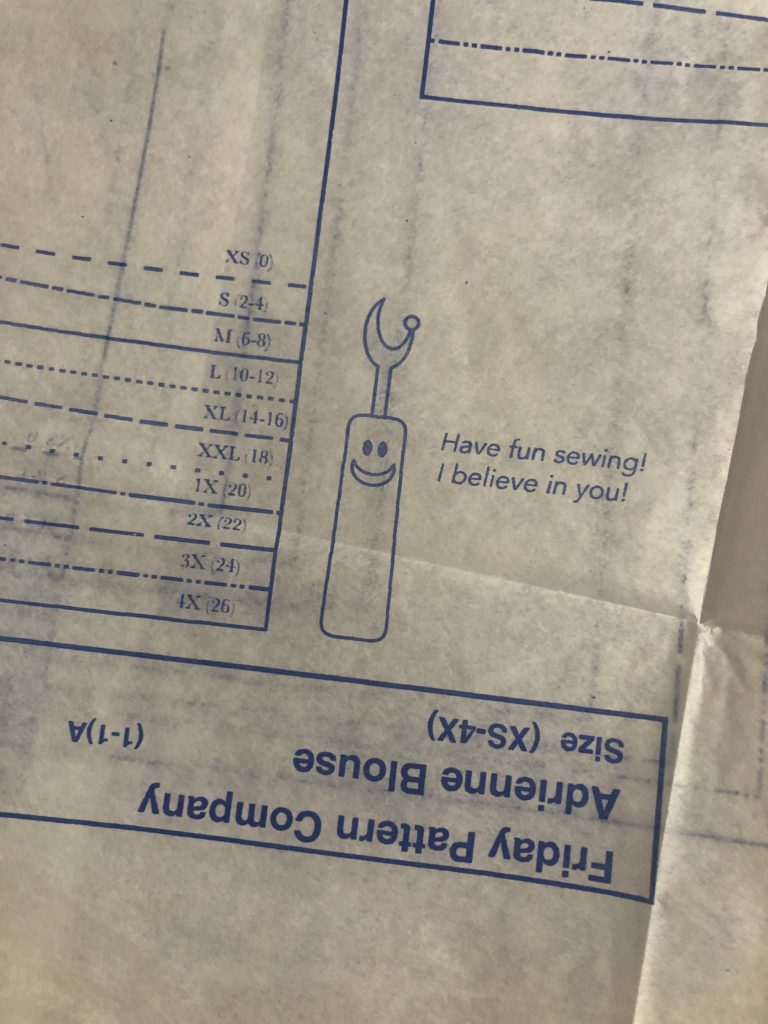 My instructor said I'm a perfectionist. Is that really a bad thing? Yes, it pains me to know that the back was sewn inside out. (I was so itchy to seam rip it) My thought process is, "If I'm going to spend all this time on creating, why not make it as fantastic as it could possibly be?!" I enjoy soaking it all in- the pressing, the measuring, etc. I even find the "thud thud thud" sound of the sewing machine relaxing. But I guess when you're in a class you can't really take your time.

Alas, I did like the social aspect of sewing with other people. It was fun chatting with other sewists and I got to test a coverstitch and overlock machine!  I'm glad they are starting to hold in-person classes again. It's a sign that things are going back to normal.