Pattern Review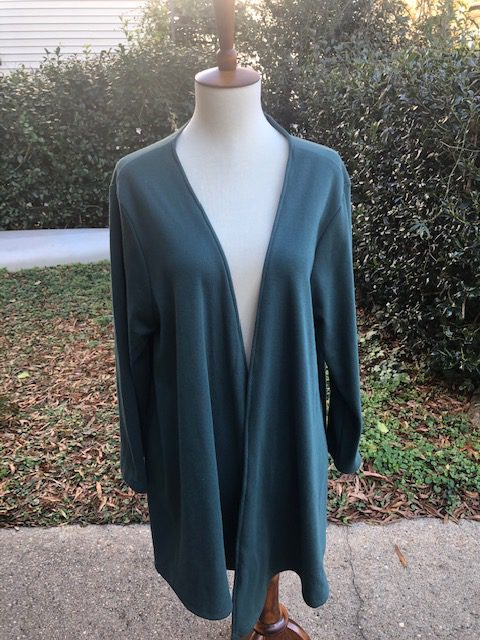 Game On: Me vs. K4199 Jacket
I knew I wanted to make my mom a garment for Christmas. After sewing all the small home decor projects I wanted to jump back into an easy sew. I chose Kwik Sew 4199 because it only had 3 pieces- a fronts, a back and a sleeve. It had a little more pizazz compared to a regular straight hemmed cardigan since it has tapered points on the front panels. I picked up K4199 because it would be exclusive to her, only available in sizes 1x-4x. It made my mom feel special that it was HER pattern only. It includes a jacket, a gored skirt and a tank. At some point I could sew all the items and make her a brand new outfit!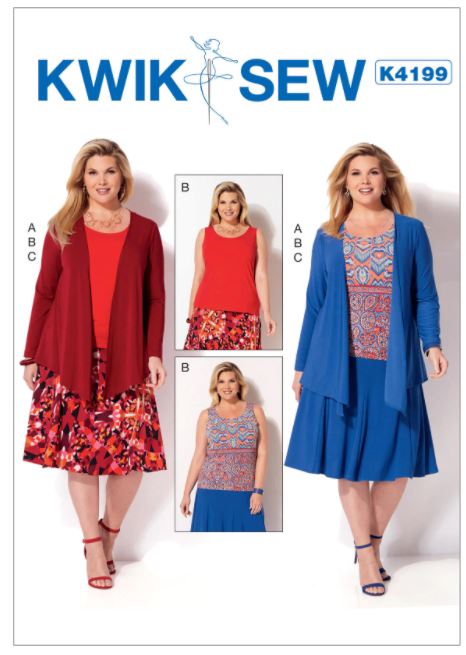 I knew that sewing for my mom would be a challenge. So far I have never sewn a garment for someone other than myself (unless you count the Viking's PJ pants). My mom in the sewing world would be considered "petite plus". At 5'0″, short arms, rounded back, large waist and hip I knew that this would be a lesson in fitting. But my pattern only 3 pieces so I wasn't too worried about it.
I started cutting a 1X based on her measurements. We did a tissue fit but found it was too small in the tummy and hip area. The last thing I wanted was to sew something and have it be too tight. For someone who is already self-conscious this would be a VERY bad thing. I searched the tissue for finished garment measurements- none listed. It just said "very close fitting". So I moved up to the 4X since the pattern must be cut smaller. I also didn't want to take a chance on sewing something too small. You can always take things in but once the material is cut you can't go back. Size is just a number though and we all know sewing sizes are completely different than RTW. I had to tell her that. I think we all feel a little bad when we see the larger size number. The whole thing is just a mind game for RTW. (But that's another story for another day.)
The actual sewing itself was pretty quick and straightforward. I sewed the majority of it in a day. When we did the first fitting though it was way too big in the neck. She kept pawing at it. The hem was of course too long and the whole thing was just really sad looking. It started to frustrate me because I really wanted to make something that she could wear outside the house- not just a practice piece. Afterall, this was a Christmas present! It was the first time in my sewing life I felt MAD at the clothing. "This is supposed to be easy! It's only 3 pieces!!", I thought. She told me it was ok but I was not satisfied. Determined to get it right, I spent the afternoon adjusting. I raised the armhole 1 inch and took in the sides and sleeves 1 inch. I felt like I could see the finish line but angrily sewed. My mom could sense this and told me to take a break. I also think she wanted her kitchen table back so we could eat dinner, lol. Finally I was overcome with defeat and put it down.
I left it on the table for 2 days.
While I let it simmer I researched a solution- neck darts. I've never put darts in anything before. Will it work?? It did! It was an instant fix!! The waist and hip area was already ok in size. The actual seam allowance ended up being 1.5″ with me cutting out all the excess. I finished it up with the narrow hem along the neck and front. Shortened the hem 2.5″ and sleeves an additional 3″. It ended up looking pretty good in the end. I was actually surprised that it looked so nice given my challenges. It also fit her perfectly. It was the outcome I wanted. She is happy with the jacket and loves her Christmas present.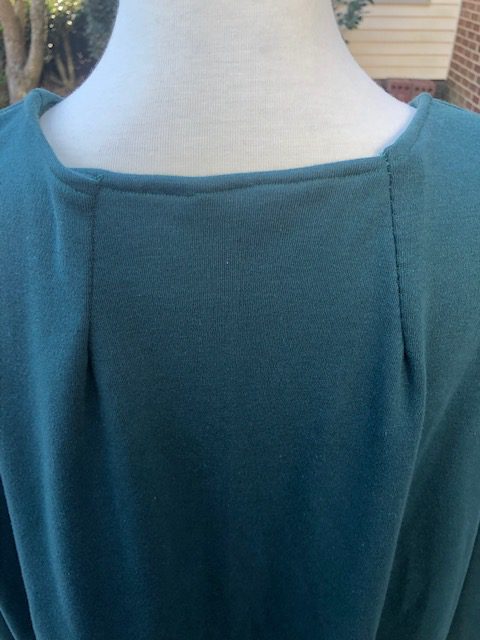 In retrospect I probably should have sewn the 1X based on her bust measurement then graded out the pattern to a larger waist and hip size. That way the neck would be more clean looking without the darts. Her hair covers it anyway but I know they are there and it somewhat taunts me, lol.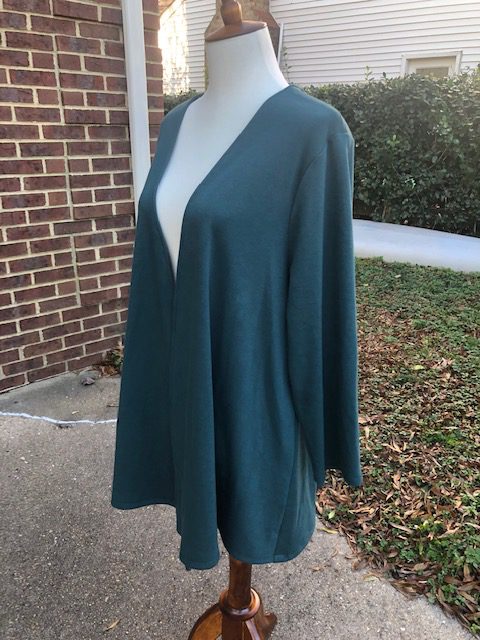 Sewing is funny. You can go in with expectations but sometimes the experience ends up being completely different than you originally thought. I really thought I'd have that jacket done in a day and a skirt and tank done by the weekend. I was wrong. But that is why sewing is so appealing! The unexpected bumps and challenges, the troubleshooting and the feeling of victory when you see the final product and the smile on the recipient's face once they try it on. It's an emotional rollercoaster! But I love the whole experience. It is a total lesson in patience and humility. Patience because it might not be done when you want it to be and humility because even though it was 3 pieces it still wasn't a breeze. I probably did about 10 fittings…on a THREE piece pattern.
I look at sewing like a game- Me vs. The Pattern. When you take a step back and look at clothing for what it really is, it's just a piece of material and thread. You can't let it win! The next time I see my mom wearing her new jacket I will be reminded of my challenges, then give it the side eye and quietly gloat, "I beat you pattern, you didn't beat me." It'll be a good feeling. 😉