Contest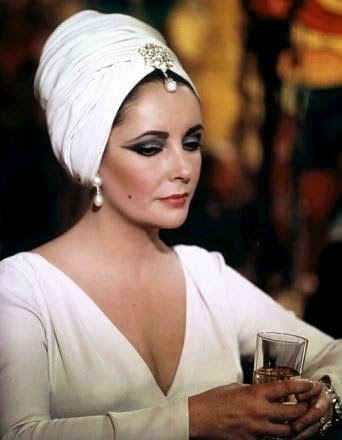 Little Basic Dress Contest- Here we go again!
I was so high off my placing in the Wardrobe Contest that I decided to join the Little Basic Dress contest last minute. The contest ran from November 1-31. Wardrobe Contest ended the 15th, and I joined the LBD contest on the 17th, 2 days later.

The whole thing I pulled together in a ridiculous amount of time. I am, afterall, a planner so ideally I would have liked to think about what pattern and fabric I would make in advance. But I didn't have that kind of time.

Here's a summary of the rules:
Create a simple dress staple in a solid color that can be worn a number of years .
Minimum of 3 pictures: Solo, Daytime with accessories, Evening with accessories
Judged on versatility of the dress
Prizes (by member votes): Eva Dress Patterns
1st Place: $100 Gift Certificate
2nd Place: $50 Gift Certificate


It took me a few days to think about what silhouette I wanted to use. All I knew is that I DEFINITELY wanted to use a leopard turban in the final look. I was thinking about Elizabeth Taylor and how chic she always looked with her headpieces. Joan Crawford was another one. The look is so glamorous!! I mean, who doesn't want to exude that kind of confidence?!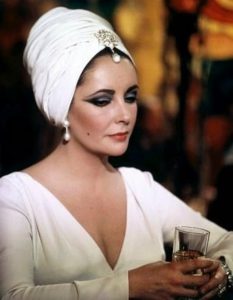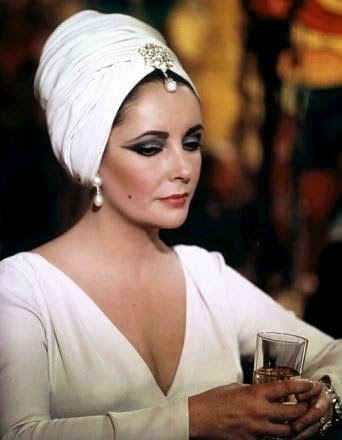 I used that as a jumping off point. I told my mom of my idea and we FaceTimed. She thought it was looked like something a Diplomat's Wife would wear. We had a good laugh. 🙂
I searched my closet for more ideas and basically played Dress Up for an hour on Facetime, lol. It was fun. My mom gave her commentary, which is always amusing. She's a VERY conservative dresser so I knew she'd have some thoughts on my LBD ideas.
My closet is a gem of inspiration. Over the years I have picked up things here and there. A thrifted 1980's vintage belt had the kind of vibe I was looking for. The gold is a great striking contrast to the royal purple…kinda Cleopatra looking. After seeing this I knew the dress was going to be purple. But it HAD to be the right shade. There's a fine line with purple- you could go Barney purple or California Raisin purple. From my days in retail I know that purple looks good on every skin tone, so that seemed like the best option. I also started thinking about all the different looks I wanted to showcase. All I knew is that I didn't want to make a boring dress and that I definitely wanted to learn some new sewing techniques.
My Banana Republic RTW sheath dress seemed like it had the most versatility for accessorizing, and it went with the turban so I committed to Simplicity 1314. It was the most similar in style because of its princess seams and invisible zipper. And yay, I'd be able to learn some new techniques!