Contest
Wardrobe Contest Plan
I was so excited about creating this wardrobe collection I couldn't sleep. Seriously. I woke up early in the mornings thinking about it. "Could I really do this?!", I asked The Viking. He said I could do it. (He's always right.) I find that when you're scared of doing something, it sometimes means it's good for you. You learn so much about yourself. With only 3 months of sewing experience, I knew I'd be entering Sewing Bootcamp. It was like Project Runway- when the contestant gets cut they all say the same thing: "I learned a lot". And then I thought of Anya Ayoung-Chee. She won Project Runway Season 9 having limited sewing experience and showed her collection at NYC Fashion Week. If they could do it why can't I? It's not Fashion Week. It's HOME SEWISTS ON THE INTERNET for crying out loud. Lol.

I looked at the whole thing like that- a learning experience, sewing experience and a creative experience! All great things. There was nothing to lose.

And so, like all things I do, I planned. I planned out my sewing goals by month, per week and per day. I created checklists- everything that needed to get done per garment and for the overall contest. I organized the heck out of it, because I am self proclaimed planner…and a little neurotic, lol. It's a blessing and a curse really because it keeps me on track but it also takes me away into my own world when it's the only thing I can think about.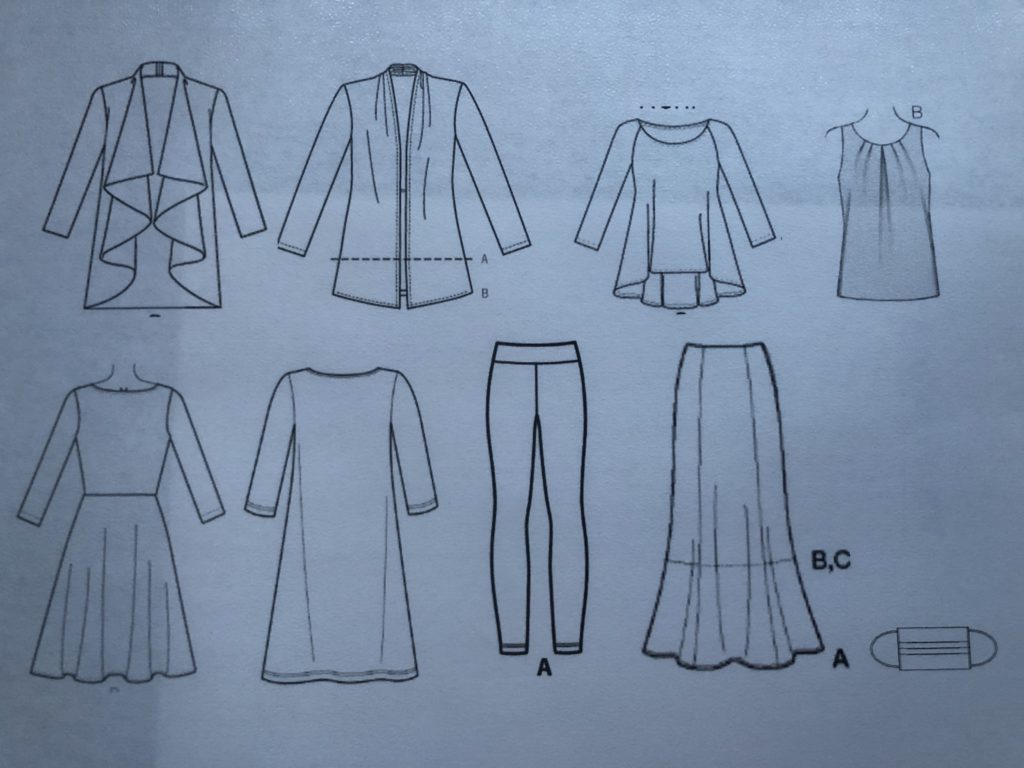 Ten Items:
Reversible Cardy Wrap- Kwik Sew 3977
Foil Jacket- McCalls 6996
Orchid Sharkbite tunic- Kwik Sew 3954
Hot Pink Sharkbite top- Same pattern
Blue pleated front tank- Kwik Sew 3691
Navy Leggings- Simplicity 8212
Skirt- Simplicity 2058
Blue Ponte Dress- Simplicity 8557
Hot Pink Jersey Dress- McCalls 7313
Lace Face Mask
With goals:
Sew 9 new patterns
Learn zippers
Make 1st jacket
Make 1st cardigan
Make 1st skirt
1st time using ponte
1st time creating cohesive wardrobe collection
Collection good for travel/life
Jumpstart Fall sewing
What was the best way of attack? We were allowed to create muslins before the start date but not allowed to cut the fabric. We were also allowed to trace out the patterns. Since it takes me a long time to trace patterns, I decided this was the best use of my prep time. I traced out all the patterns and hung them in the closet. I prewashed all my fabrics. I created my "Planned Projects" binder with all my checklists. I thought about creating a sloper (basic fitting garment) and tweaking all the patterns towards it. But sloper would take up so much precious time so I decided to just sew the garments as is, without practice. Most of them were labeled "Easy" anyway. I really was just going to wing it. Not EVERYTHING has to be planned out!! 😉

This practice ended up really good for me. I learned the Palmer/Pletsch tissue fitting method and was able to fit most of my patterns without creating a muslin. I did muslin the cardigan and jacket though, as I didn't want those to be ill-fitting.

I was so excited about my plans I told my family and a few friends. Most of them couldn't envision it. They just knew it was a lot of sewing. But they could see my eyes get BIGGER and VOICE GET LOUDER and speech get FASTER when I spoke of it. My cousin asked me if I was going to blog my experience. Honestly I thought about creating the blog AGAIN but decided sewing for this contest was enough to handle for now. The thought of having a whole collection of clothing sewn by me was just so exciting, and that floral ponte jacket was going to be a dream come true!