Contest
Wardrobe Contest 2020
Here we are getting into the truly exciting part of my sewing journey thus far!

In early September I was perusing the sewing forums on PR and saw that they would host a Wardrobe Contest, running 2 months from Sept 15-Nov 15. The first place winner would receive $100 gift certificate from Fabric Mart. The 2nd place would receive a $50 gift certificate. The whole thing totally piqued my interest.

The official rules- Sew 10 pieces:

Make 1 Topper (For example: cardigan, vest, blazer, jacket, structured cape, bolero)
Make 2 Bottoms (For example: pants, skirts, shorts, leggings, capris)
Make 2 Tops (For example: blouses, shirts, t-shirts, tank top, tunic)
Make 1 sewn accessory (For example: scarf/shawl/wrap, belt, purse/bag, hat, tie, facemask, scrunchie, wrist warmers/mittens/gloves, shrug, tights, sewn shoes/slippers, sunsleeves, head wrap)
Make 4 Free choice (top, bottoms, topper, maximum of 2 dresses or 2 jumpsuits or 1 of each, maximum of one additional accessory)

Everything had to be sewn, including the accessory, which also had to look good with all the outfits. All 10 pieces had to look good together- each top had to look good with each bottom. And every topper had to be able to be worn with each top & bottom or dress combination. "The wardrobe concept is to create a selection of clothing that coordinate and can be worn together in multiple ways." I read that as, "Create a fashion collection."

MY MIND RAN WILD!!! With all those rules it was like a puzzle I just HAD TO SOLVE. Choosing the silhouettes that'll match everything and also the fabrics..there were so many possibilities on where this could go. 10 pieces in 2 months. I calculated that to sew one piece per week. Could I really do this?! I've only made masks, pajama pants, a t-shirt and a dress. I was so excited about joining though I decided to commit. I spent about a 3-4 days brainstorming ideas, choosing patterns, thinking about color schemes, etc.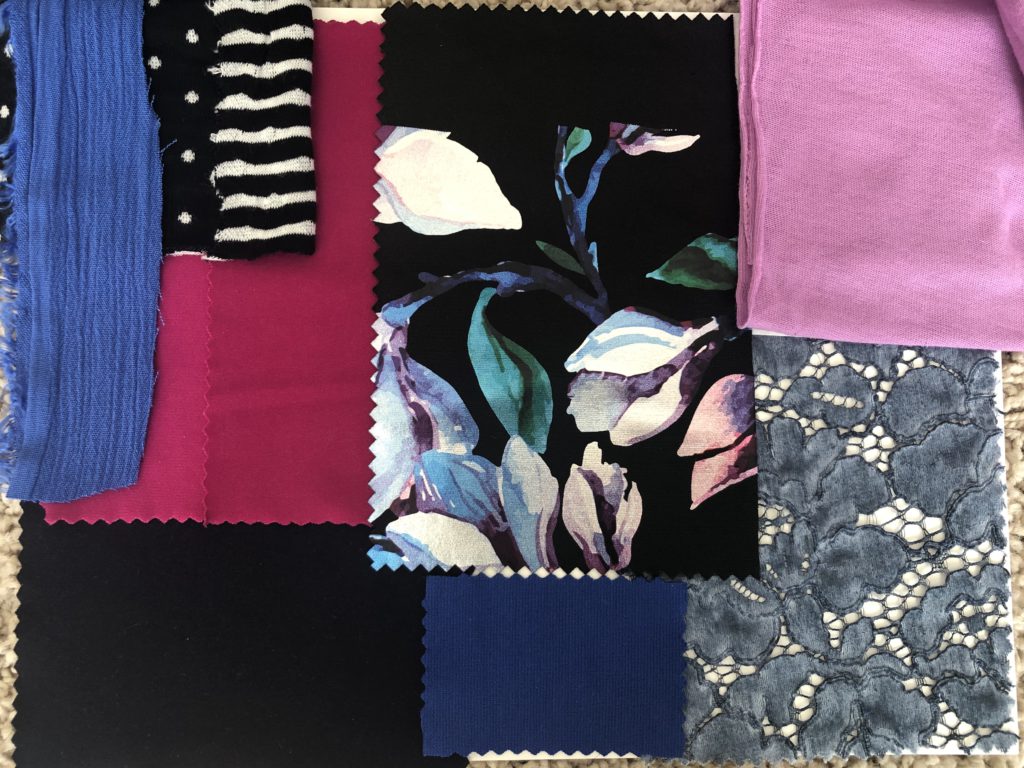 I knew I already had my starting off point: that beautiful foil floral swatch I had received from Mood. It is a foil floral pattern ponte knit, which I read was good beginner easy to sew knit, so I decided to go for it. When I received that swatch I had envisioned a beautiful jacket. I was determined to make that jacket in my mind. Since it had so many colors, I pulled out my favorite ones to highlight. The following week was spent ordering additional swatches from Mood and Vogue Fabrics and narrowing down patterns.
Interesting thing about creating a wardrobe collection. You don't really know how things will look when they aren't made yet. Like when I used to dress people for a living managing/selling in retail, I had no problems putting together outfits. But when the garment is not made, sometimes it's hard to envision if will actually look good together! And even still sometimes it's hard to imagine what a flat piece of fabric is going to look like when it's sewn. To combat this mental hurdle, I used the paper doll method I had read about on Seamwork and drew out all the potential outfits with the fabric colors I had chosen and look for holes. The wardrobe collection should be COHESIVE afterall. I didn't want some lonely piece in an odd color or silhouette that looked like it didn't belong. Choosing so many bright colors and patterns it would be VERY EASY to look like a crayola box or that you got dressed in the dark. It was then I realized I was missing a color and ended up using a remnant from my Butterick 6677 dress, which happened to match for a top.
I found this to be an extremely helpful exercise and I ended up working on my illustration (tracing) skills too. The planning part of the contest was fun in itself. I felt pretty good about my vision so now it was time to start executing.