Pattern Review
Tunic- Kwik Sew K3954
This was another quick sew Kwik Sew pattern that lived up to its name. This tunic has raglan sleeves and no finished waist measurements so it was pretty easy to fit. I sewed this in size XS using Ralph Lauren matte jersey from Mood in the color Pink Dahlia. With 95% polyester, 5% spandex it had a really nice drape.

I found raglan sleeves to be SO much easier to sew than set in. My problem was that the scoop neck was too low, so I fixed this problem by using a 5/8″ seam allowance in the front, and only 1/4″ on the rest of it, as the pattern instructs. Since I had used bias tape before on the dress, this became an easy thing to sew. I just love when these patterns build on my sewing skills!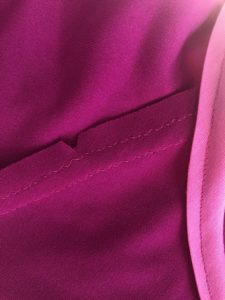 I took my new pink top and navy leggings out for a spin to lunch with my friends. This was the first time I have ever worn an complete homemade outside in public. My friends were impressed! And I felt pretty happy too knowing that the whole outfit was homemade. What was even more cool is that I could say that my top was Ralph Lauren! I mean, technically it is…but it isn't. 😉

I really like the idea of deadstock fabric. What is deadstock fabric?! It's the same fabric designer use in their garments but the leftovers. They sell it to the fabric companies and then we home sewists get to purchase it! So you get the designer name but use your own pattern. It just makes me smile and adds to the story of the garment.
Official Review: Kwik Sew Misses Tunic and Scarf 3954 pattern review by RosieSews2