Pattern Review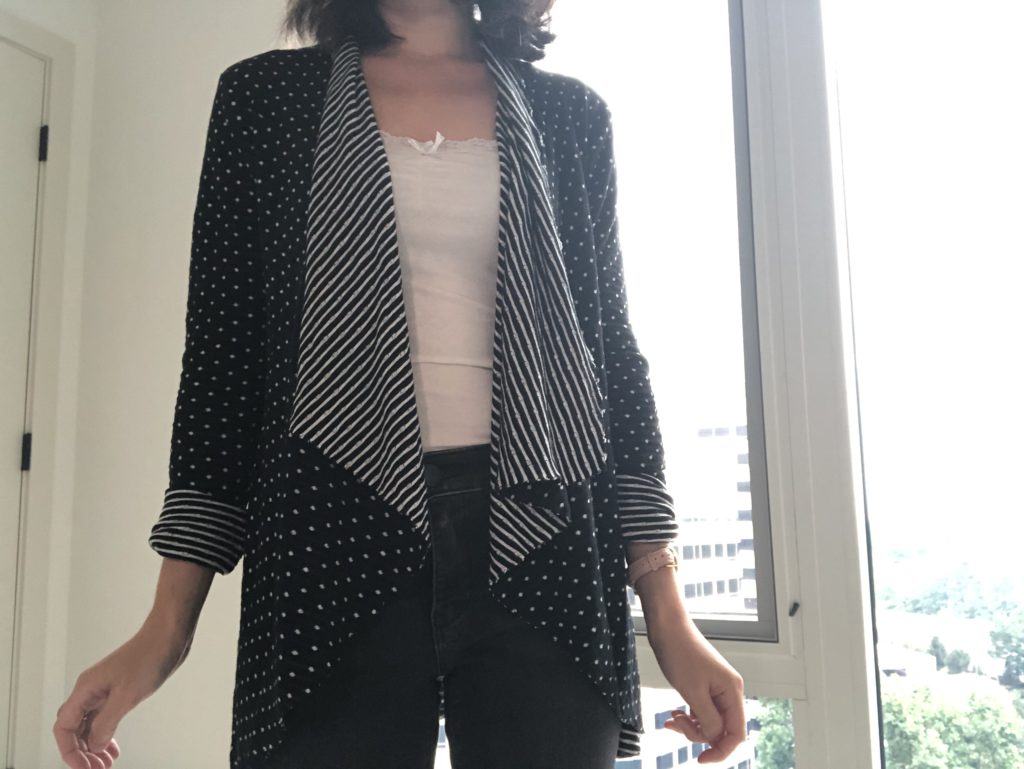 Reversible Cardigan Wrap- Kwik Sew 3977
When I saw the black and white reversible fabric at Joanns, I knew immediately it was going to be a drapey cardigan. One side is black and white stripes and the other side is black and white polka dots. It was just fun. I also knew I wanted to take advantage of that reversible fabric so I could wear it different ways. The contrasting pattern peeking out from the drape was key.

I sought out out of print pattern Kwik Sew 3977 because of the photo. It had exactly the kind of drape I was looking for and having sewn the KS 3766 t-shirt, I knew the instructions would be easy to follow. Luckily my Joann's had it in their drawer and I was able to purchase during their sale. The pattern calls for heavyweight stretch fabrics and suggests boiled wool and fleece. Well my fabric was a cotton/rayon mix. I went ahead and ignored the envelope and went for it.

The pattern was only 3 pieces but I muslined it anyway. I took 2.5″ off the hem and used a 1″ seam allowance.

Official Review: Kwik Sew Misses' Jackets and Belt 3977 pattern review by RosieSews2

Matching up those stripes was a bit of a challenge but it worked. It was a test of patience really, as the sewing itself was pretty straightforward. It only had a few lines of actual sewing too, so it did end up living up to it's name- being a quick (Kwik) sew! It was actually really interesting to me how that C shape would eventually become the drape. Garment construction is so intriguing!

I was very happy with how it turned out. It's totally a fun piece with its reversible options. The striped side kinda reminded me a bit of Doc Brown's smoking jacket from Back to the Future, lol. It's a little 80's looking but also conservative, depending on its styling.